Instant Classic – St. Bonaventure 117 Davidson 113
College Basketball Emotions in Play and St. Bonaventure Prevails in Triple Overtime to take over 2nd place in Atlantic-10
I was working on college basketball handicapping, research and writing up game analysis and more including for the upcoming NCAA Tournament last night while listening to one of the best college basketball games of the season. St. Bonaventure hosted Davidson in A-10 play, and both teams entered 12-4 in conference play tied for 2nd place behind Rhode Island, who lost by 30 on their undefeated home court to St. Joes. Rhode Island's loss leaves just 5 teams in the country that are undefeated on their home court this season. All seven teams that were once ranked top-25 and undefeated on their home court just three weeks ago have since lost.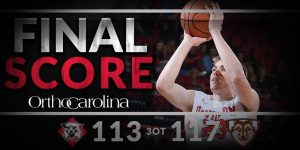 The St. Bonnie/Davidson game was on CBS Sports Network TV, but I listened in online at TuneIn radio. While there was network problems during the final minute of the 3rd overtime, and I missed the final call, we had a betting interest in the game with St. Bonaventure (-1.5, closed -2.5) prevailing 117-113 in triple overtime. However, the game provided so much more than just another college basketball contest or wagering result at the sportsbooks.
I sent out a few tweets during the latter stages and overtime noting that during the first overtime, the Davidson radio announcer said it was the best game he's ever called. "As good as it gets" he said as the teams went back in forth during the second half and each overtime. St. Bonaventure was ahead early 19-4 but trailed 41-37 at halftime.
A review of the box score showed St. Bonaventure Sr. guards Adams (34 points) and Mobley (33 points with 16 in OT) shining on senior night and the Bonnies last home game. Adams does not get the media attention of players at high-profile programs or power conferences, but all he has done this season is hit 48% of his shots from the 3-point line to rank top-5 in the country. He fouled out in overtime, as did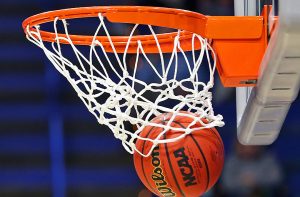 Davidson senior Aldridge, who had a career-high 45 points while hitting 8-of-11 shots beyond the arc. Freshman Phenom Grady (39 points) helped carry Davison as well while hitting 16-16 free throws. The emotion and competitive spirit was clearly at its peak, and I've written about the emotions and last home games along with late season situational handicapping.
On a night when we went 4-1 to bounce back from a coin flip loss with Texas Tech Saturday vs Kansas in a marquee match-up and a tough week prior, we managed to get Arkansas, Baylor and Missouri in the win column Tuesday. I often write up games with analysis and can even get a little long winded in providing stats, insight and ATS info to support plays or situations. But while I did the research and evaluated the stats, situations and more, I provided some brief analysis with plays Tuesday. The results don't always work out, and can often be frustrating with close calls. But knowing that approx. 40 percent of all regular season college basketball games and results land within 5 points of the betting line, it might help you to just do your best and let the chips fall where they may as you watch the games unfold.
Missouri…3-straight losses & cannot slip up any more. Dichotomous home/road last-place Vandy has inferior defense and has allowed nearly 90 PPG in last two games. Mizzouri star freshman Michael Porter cleared for practice and could play alongside his brother Jontay, but not likely. Regardless, motivated Missouri stronger and plays with purpose.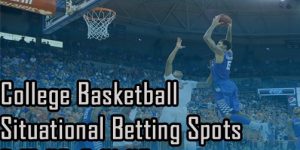 Davidson taking money?!  St. Bonnie & Davidson tied for 2nd in A-10, and it's last home game for St. Bonaventure & senior guard tandem Adams and Mobley. Bonnies 12-1 at home, on 10-game win streak and play with revenge for 10-pt loss to Davidson Jan. 19. Bonnies better defense, superior RPI and NCAA Tourney 'bubbling' as last 4 in keeps them focused for Davidson, who despite winning 7 of last 8 games, has lost on the road at Rhode Island, Dayton and Richmond.  
Baylor off back-to-back losses, last home game and plays with revenge vs Oklahoma, who has really lost their way under one of our favorite coaches Lon Kruger. Bears superior defense completes profile we have written about in situational late game handicapping.
 In the St. Bonaventure and Davidson game, it was just a time to enjoy the process and players performances, as those two teams gave us an instant classic and refreshing game to enjoy while watching or listening to what the sport is able to provide – amateur athletes competing in a great college environment without the payoffs, corruption and cover-up we have seen recently that threatens the college game, or at least the recruiting process of big time basketball and programs.

As I've provided some late-season handicapping articles, including last home games and even losing results with our Texas Tech analysis, we note that injuries can be a factor, as it was for the Red Raiders Saturday and in recent games, and continues to be for many teams pushing down the stretch. That includes for Nevada, who is a top-25 team and has clinched their second-straight Mountain West regular season title as they play here in Las Vegas against UNLV Feb. 28 – a game I will be attending at the Thomas and Mack just off the famed Las Vegas strip. Under the bright lights, we'll see plenty of emotion again as Nevada plays with revenge for just one of two conference losses this season when UNLV (19-10/8-8 Mtn West) won in Reno 86-78 as a 9-point 'Dog on Feb. 7. Nevada (25-5/14-2 Mtn West) is going to the NCAA Tournament again and has secured their second straight Mountain West regular season title.
The Wolf Pack lost their star point guard Lindsey Drew to a season-ending injury two weeks ago, and Nevada was certainly a mid-major that could have made a quality run in the NCAA Tournament. Now it will just be more difficult, and you can listen to Nevada coach Eric Musselman discuss his team and read about some of the keys to Nevada winning the rematch against UNLV. Musselman should be coach of the year again in the Mountain West, and listening to him throughout the season you understand his high basketball IQ and ability to coach.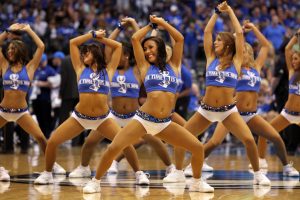 Same too for UNLV's Marvin Menzies, who has brought the Rebels back from a disastrous situation and season last year and has really recruited well in a short time under difficult circumstances. I was in attendance Dec. 2 to see UNLV lose a tough game versus Arizona in overtime in another great college basketball game, and tonight you may want to tune in as I expect a very high-scoring game.
Another tough situations surrounding college basketball is seeing players leave to the NBA after just one season of playing college basketball. UNLV forward Anthony Bennett did it following the 2013 season and became a wealthy young man, and the biggest bust in NBA history as a No. 1 overall pick. Now UNLV Rebels star freshman forward Brandon McCoy (17 PPG/10 RPG) could be playing his final regular season home game as the temptation of the NBA awaits. He had just 8 points and one made field goal while fouling out on Feb. 7 against Nevada. Let's hope he both stays in the game in the rivalry rematch and plays at least another season for UNLV while enjoying the emotions and thrills that college basketball and college life provides.
FairwayJay is a leading national sports analyst and is recognized as one of the sports industry's most insightful handicappers and professionals. Follow him on Twitter: @FairwayJay