Historical Elite Eight Betting Tips
A sports betting colleague fired me some historical Elite Eight tips and data that includes seeding results for teams playing in the Elite Eight. The Elite Eight betting match-ups and odds includes three Pac-12 teams along with three No. 1 seeds. Those top seeds, Gonzaga, Baylor and Michigan, went 3-0 SU/ATS in the Sweet 16, and No. 1 seeds are now 15-1 SU and 11-5 ATS in the Sweet 16 in the last five editions of the NCAA Tournament.
I posted some historical Elite Eight data in my recent update at Offshore Gaming Association, and you can read more details.
Elite Eight Betting Odds and Match-ups
Lines from William Hill
No. 12 Oregon State vs No. 2 Houston (-8), total 129
No. 3 Arkansas vs No. 1 Baylor (-7.5), total 148
No. 6 USC vs No. 1 Gonzaga (-9), total 153.5
No. 11 UCLA vs No. 1 Michigan (-7), total 136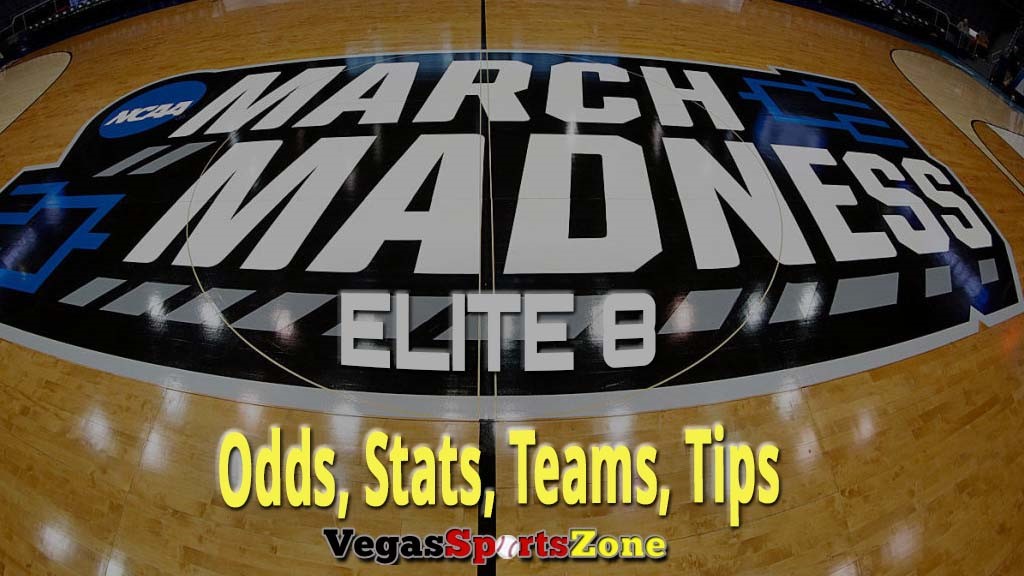 Historical Seed Data and Elite Eight Betting Results
The Elite Eight is where the pressure really mounts as teams shoot for a spot in the Final Four. That includes even for the stronger No. 1 seeds. Three No. 1 seeds remain, along with a 2, 3, 6, 11 and 12 seed.
Here is the straight up record and performance of those seeds playing in the Elite Eight since 1985:
| | | |
| --- | --- | --- |
| Seed | SU Record | Win % |
| 1 | 56-20 | 0.583 |
| 2 | 29-34 | 0.460 |
| 3 | 17-19 | 0.472 |
| 6 | 3–1 | 0.214 |
| 11 | 4–4 | 0.500 |
| 12 | 0-1 | 0.00 |
When facing a double digit seed, No. 1 seeds are just 8-4 SU. If having to cover a point spread of 7 or more like Michigan is beting asked to do agaisnt UCLA, those top seeded teams are a money-burning 3-11 ATS.
The No. 1 seeds facing a No. 6 seed like (Gonzaga vs USC) has seen the top seed go 7-2 SU. The seven wins have been by an average 14.3 points per game.
A No. 1 seed playing a No. 3 seed in the Elite Eight (Baylor vs Arkansas) has seen the top seed go 15-10 SU. However, if those No. 1 seeds would have had to cover a line of -7.5 or higher like Baylor is being asked to do, they would have gone just 6-19 ATS.
I mentioned in my update at OSGA that despite No. 2 seeds going just 5-12 SU vs. No. 4 seeds or worse in the Elite Eight, I did not bet on the underdog 12 seed Oregon State against No. 2 Houston. There are match-ups that dictate keys to NCAA Tournament success, and I did not support Oregon State going against defensive dominator Houson as a top defensive team. I did, however, bet Under the total as noted, and also the Over in the Baylor vs Arkansas game.
All three top seeds, Gonzaga, Baylor and Michigan won and covered in the Sweet 16, going 3-0 SU/ATS. The current betting data shows most those bettors are riding their winnings and playing the top seeds to win and cover again.
I bet both underdogs Tuesday, USC and UCLA.
You can bet on it.
Author: FairwayJay
is a leading national sports betting analyst, writer, handicapper and sports betting insider providing insight and information you can bet on for nearly two decades from Las Vegas. He chips in additional sports betting coverage and reporting on industry news and events for leading media and sports betting sites and companies. Follow him on Twitter: @FairwayJay