Golden Knights Lead Pacific Division Into New Year
Vegas Golden Knights and Arizona Coyotes First Place Showdown Dec. 28 In Las Vegas
Halfway through the 2019-20 season, the Vegas Golden Knights are tied for the Pacific division lead with the upstart Arizona Coyotes. Vegas is 20-15-6 following a 4-3 loss at Anaheim, but the Knights have a rematch with the Ducks on New Year's Eve in Las Vegas. That will be quite the environment to ring in the New Year, but an even bigger game is on deck Saturday night when the Knights host the Coyotes (21-14-2) in a first place showdown in Las Vegas on Dec. 28. Those two teams are tied with 46 points on top of the Pacific division with Calgary (45 points), Edmonton (44 points) and Vancouver (42 points) just behind in a tight division race.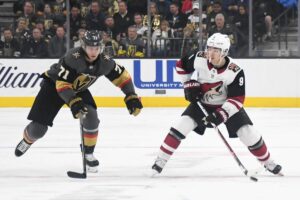 Vegas and Arizona have split the season series thus far each winning on their home ice. The Coyotes won 4-1 on Oct. 10 and the Knights 2-1 in a shootout on Nov. 29. Golden Knights backup goalie Malcolm Subban played both games, but Marc-Andre Fleury will be between the pipes for Vegas on Dec. 28. But Coyotes goaltender Darcy Kuemper remains out after suffering a lower body injury more than a week again against the Minnesota Wild. Antti Raanta will be in net for Arizona against Vegas.
Vegas Golden Knights -140
Arizona Coyotes +120
Total Goals 5.5
Here is a game preview by KnightsOnIce.
The Golden Knights are a top-10 team in the NHL in Corsi, shot share and high-danger share, and are 11th in expected goal share at even strength this season. The Coyotes are 23rd in both Corsi and high-danger share, 19th in shot share and 18th in expected goal share this season, significantly less impressive.
A good article in The Athletic with a mid-season update on the Golden Knights and how preseason predictions and player performances are taking shape at the halfway point of the season. Vegas has played 41 games, but the Coyotes have two games in hand as the two division leaders lace 'em up in a key contest Saturday night at T-Mobile Arena.
Back in May, the Golden Knights were the 7/2 favorite to win the Western Conference and 7-1 to capture the 2020 Stanley Cup with odds posted at the Westgate SuperBook in Las Vegas. The Arizona Coyotes were expected to be improved from last season's 39 win season which saw them just miss the playoffs with 86 points. The Coyotes were 30-1 to win the Stanley Cup in May, and the current odds have the Coyotes at 16-1 and Vegas at 12-1.
Where do the Golden Knights rank halfway through the season? Check out the stats.
I took every team stat I could find and broke them down by where the Golden Knights rank in the NHL.

Find out where they lead the league, what they are great at, and where they struggle most. https://t.co/Ow2UTARL3M

— SinBin.vegas (@SinBinVegas) December 27, 2019
The Golden Knights rank 10th in goals for with 119, but 18th in goals per game with 2.94. As for goals against, Vegas comes in at 20th place with 118, or 13th with 2.91 per game – (prior to game vs Anaheim).
Golden Knights – Lead the League
Takeaways – 9.6 (1st)
Scoring chances (Natural Stat Trick) – 30.9 (1st)
Offensive zone faceoffs – 22.1 (1st)
Great (Top 5)
High-danger chances (Natural Stat Trick) – 12.2 (2nd)
Shot attempts – 60.8 (3rd)
Shots on goal – 33.6 (3rd)
Expected goals – 2.94 (3rd)
Hits – 26.4 (4th)
Icings against – 4.9 (4th)
Shorthanded goals – 0.15 (5th)
Against All Odds: Vegas Golden Knights And 'Valiant' Documentary Is An Emotional Victory
Vegas is no longer a Cinderella story like the Knights inaugural 2017-18 season. But the storybook season lives on, and last month I saw the world premier screening of the documentary film "Valiant" at T-Mobile Arena. The film is now available on Video on Demand (VOD) platforms, and I provide a preview in an article at Forbes. "Valiant" is an emotional victory, and it transcends so much more than a story of a hockey team and sports. It brings more meaning to a community, and of a longshot that delivered.
FairwayJay is a leading national sports and betting analyst providing insight and information you can bet on for nearly two decades from Las Vegas. His work, writing and content is provided to various sites and leading sources. Follow him on Twitter: @FairwayJay