Fairway's Forecast – College Football Week 9 Preview And Picks
Fairway's Forecast and Week 9 College Football Underdog Picks
Some key Top 25 games this week in college football news, and I provide some insight on the three big games in my weekly Top 25 report at Forbes.
No. 13 Wisconsin at No. 3 Ohio State (-14.5) – 12:00 ET on FOX
No. 9 Auburn at No. 2 LSU (-10.5) – 3:30 ET on CBS
No. 8 Notre Dame (-1) at No. 19 Michigan – 7:30 ET on ABC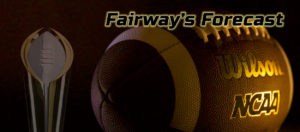 A big underdog card this week and you can review each game and analysis in my weekly update at Offshore Gaming Association with my Week 9 underdog picks and insights.
Let's continue with our pursuit of profit selecting only underdogs again in Week 9.
Real time scores and odds from Las Vegas sportsbooks.
NCAA Football Underdog Selections for Saturday, Oct. 26  
113 Troy (+1.5) at Georgia State – Trojans Moneyline +105
124 Temple (+11) vs UCF – Owls Moneyline +330
129 Central Michigan (+2.5) at Buffalo – Chippewas Moneyline +120
162 Michigan State (+5) vs Penn State – Spartans Moneyline +175
169 Oklahoma State (+10.5) at Iowa State – Cowboys Moneyline +315
189 Miami, FL (+4.5) at Pittsburgh – Hurricanes Moneyline +165
Central Michigan is the better team with better stats and a team that has been way undervalued since a 61-0 loss to Wisconsin in Week 2. 
The Chips have gone 4-2 SU and 6-0 ATS since and we were on them at Western Michigan (+17) in Week 5 in a 31-15 loss that was closer than the final score when the game closed +15. That makes it look like an ATS loss at some places that track covers and ATS results, but CMU had 437 yards and out-gained WMU. However, 3 turnovers and 15 penalties were problematic in defeat. The Chippewas have won each of their last three games by at least 14 points while averaging 542 yards per game in those contest. First year coach Jim McElwain is a difference maker just as he was at Colorado State before taking the Florida job and now landing in the MAC. Central Michigan won 1-game last season, is improved on both sides of the ball and has the stronger special teams in this matchup as well. Add in a better yards per play differential for CMU (+0.4 to -0.1) versus FBS foes and a similar SOS, along with a Chips run defense allowing 123 rushing YPG to slow what the Bulls do best and 'held' Wisconsin to 199 rushing yards (40 below Badgers average) and we ride the money-making machine with CMU looking to become bowl eligible with their 6th win.
We missed the best number at the leading online sportsbooks posting this late week, but the situational spot for the Michigan State is too good to pass up. Michigan State (4-3) has not performed as expected (2-5 ATS), but this is still a winning team with a solid defense in a great situation with added ATS support. The Spartans enter off a bye and back-to-back blowout losses to Ohio State and Wisconsin. But this is still a top-20 defense allowing less than 320 YPG. We cashed in against Penn State last week and noted the Lions (7-0) were out-gained by Michigan 417-283 the the Penn State defense was on the field for 82 plays. That came after a defensive grinder at Iowa in which Penn State was out-gained 356-294 but escaped with a 17-12 win. The Nittany Lions defensive front is exceptional, as they are disruptive and get in the backfield and allow just 76 rushing yards per game. But much pressure building and energy exerted to stay undefeated again last week with the help of some fortunate officials calls against Michigan. Good fortune runs out this week for the Nittany Lions against the fresher and plenty motivated Spartans in what should be a defensive duel and a total (43) likely to drop further with 100% chance of rain in the forecast Saturday in East Lansing.
Solid value here with Oklahoma State (4-3), who is off back-to-back losses as a favorite. Too many turnovers in those to losses with five at Texas Tech and three more last week against Baylor. Bettors don't want to get burned again, but rather prefer to ride the hot streak of Iowa State (5-2), who is on a 3-0 SU/ATS run handling three straight Big 12 opponents pretty easily with double-digit wins. Iowa State's two losses have also been by a combined 3 points to teams that are a combined 12-2 (Iowa and Baylor). Still, the adjustment in price reflects that but with an Oklahoma State offense that averages 510 yards per game, we'll take our chances that turnovers will be corrected and a competitive contest will follow.
Hard to figure out Miami (3-4), who travels to Pitt (5-2) after losing to Georgia Tech in OT last week as an 18 point favorite. The Hurricanes have out-gained all but one opponent this season, but are below .500 yet good enough to have beaten Virginia with early-season close losses to Florida and NC. Miami has the better scoring offense and defense in this match-up, but the Panthers have been on a prowl going 4-1 SU and 5-0 ATS in their last five games versus FBS foes with the close loss to Penn State. This is an improved Pitt Panther team, but we play the bounce back with a refocused Miami team that's better than they have shown in an expected lower-scoring ACC clash with rain (80%) driving the total downward as well.
More insight, information and game analysis in my weekly college football underdog picks and preview at osga.com.
FairwayJay is a leading national sports analyst and is recognized as one of the sports industry's most insightful handicappers and professionals. Follow him on Twitter: @FairwayJay