Fairway's Football Forecast – Week 9 NFL Picks and Predictions
Identifying Underdogs and Parlays for Profit – Week 9 NFL Picks
We continue with our NFL picks, predictions and parlays with a focus on underdogs. Like our weekly college football picks and predictionsproducing profit, we take a similar approach in the NFL. However, with fewer games each week, finding four underdogs to join Fairway's Foursome is far more challenging. Still, we'll Chip-in our thoughts and analysis, and modify our course management along the way.
We took a shorter approach in Week 8 with two plays, and had our 2-0 sweep, until the 49ers (PK) blew a 15-3 fourth quarter lead against awful Arizona in a 18-15 loss. Bad break, but Washington 'skinned the Giants to give us a 1-1 week and now 14-12 ATS this season with 11 outright winners as we turn to the second half of the season and November.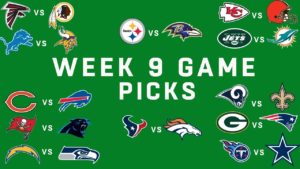 Do your best throughout each week to anticipate line moves and bet the best numbers, including with your NFL Week 9 picks. With so many offshore options and leading online sportsbooks to choose from and compare, it should be reasonable to expect using due diligence in your search for the best numbers. That said, we release these plays late in the week and can't always provide the best numbers, but we'll continue to chip-in our best to make more birdies and get the green.
Risk vs. reward and searching for value is something bettors should shoot for in their pursuit of profit. Competitively-priced underdogs are always worth consideration, as many of these barking 'Dogs can not only have your wager secured in the later stages of a football game, but some will also have a solid shot to win outright. Thus, money line wagers should also be part of your betting portfolio.
In the NFL, competitively-priced underdogs are 6-points or less. Since the point spread comes into play less than 15% of the time on games lined at 6-points or less, you should consider money line 'Dogs along with your straight wagers which should be the focus. I'll provide the parlay payoffs as I know many bettors like to risk less and win more, despite the odds against hitting a 3 or 4-team parlay.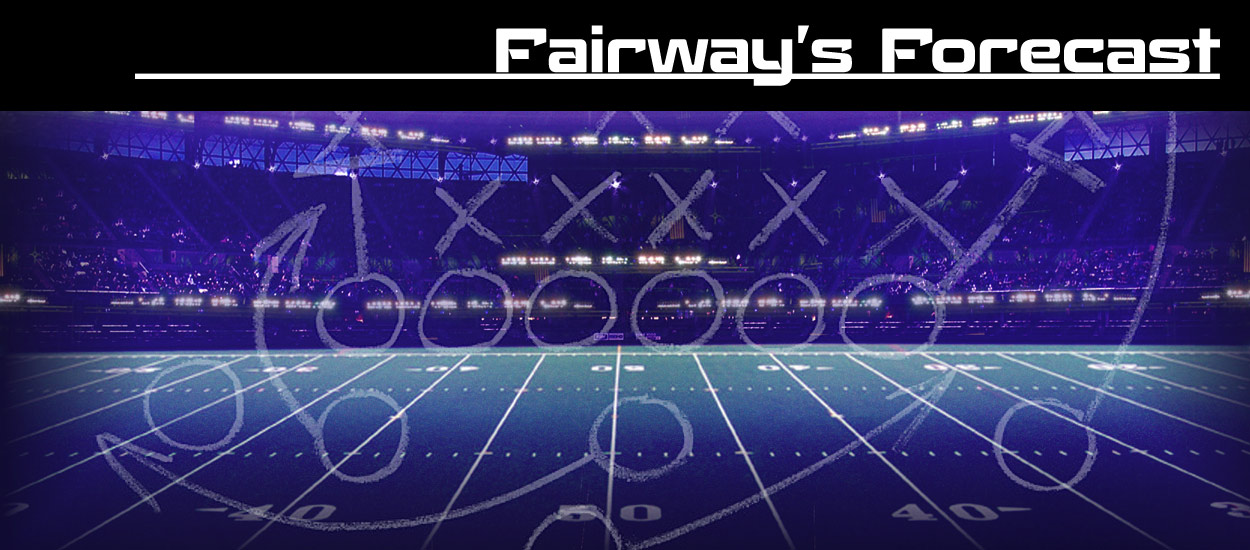 Fairway's Football Forecast provides the picks and these leading online sports books offer the best experience and security to ensure you're getting paid. Shop the best lines for NFL Week 9 games including leading reduced juice shops.
455 Pittsburgh (+3) at Baltimore – Steelers Money Line +130
465 Houston (+1) at Denver – Texans Money Line +105
471 Green Bay (+6) at New England – Packers Money Line +210
473 Tennessee (+6) at Dallas – Titans Money Line +210
$20 4-Team Money Line Parlay = $886
$20 4-Team Parlay = 220
Back to a foursome this week as we go Inside the Numbers and play the percentages. Considered both big ugly 'Dogs Buffalo and Cleveland on these pages, but decided to watch and wager as I see game unfold knowing Bills QB Peterman is one of all-time worst, like last year's Browns QB Kizer, and we saw how that played out week-after-week. Still, Buffalo one of toughest places to play and especially for an inexperienced QB or one that has not played there before like Bears and Trubisky. Bills defense solid, and even very low total shows stats and numbers coming in UNDER. And Cleveland finally dumped hopeless Hue as its coach, but still a rookie QB, new play caller and offensive coordinator and Browns defense underperforming having to keep up with KC and QB Mahomes. Chiefs run defense historically bad, and normally an automatic take for this priced home 'Dog, but we'll let you decide and play these four 'Dogs below.
Pittsburgh at Baltimore –  The Ravens (4-4) are on a 1-3 slide and were run over at the point of attack last week by the Panthers, who rushed for 154 yards on Baltimore's top defense. After facing mostly sub-par quarterbacks this season, we've not seen Baltimore struggle a bit the last two weeks facing a pair of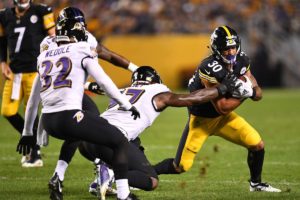 former MVPs. Now Big Ben and the first place Steelers (4-2-1) ride a 3-game winning streak into Baltimore for this rivalry redemption for a 26-14 home loss to these Ravens Sept. 30. Both teams are playing faster (top 5 in pace) and passing more often, and Baltimore has had the most weather impacted games this season with Pittsburgh close behind. Normally a look under total, and 11-year history between these teams and coaches has seen average score of 41 points. But the Ravens defense has not been as sharp the past two weeks and Steelers averaging 34 points per game since losing to Baltimore. Steelers a take as FG 'Dog and can clearly win in tossup.
Houston at Denver – Another clueless coach I've been critical of and the Broncos will be looking for a new leader following the season, if not before. Denver has played their best at home, and a little concern with Houston beating mostly sub-par teams during its 5-game winning streak. The NFL may not be as big a momentum sport, but confidence and cohesion is important and the first place Texans (5-3) have it currently with 5-straight wins while the Broncos (3-5) lack leadership, confidence and cohesion. Denver jettison WR Demaryius Thomas to Houston this week, so Thomas gets to face his former team in this contest. Denver runs the ball well, but Texans can slow what they do best with a top-5 run defense, and force QB Case Keenum into more mistakes and interceptions (10 INTs). Houston has the better offense, defense and counting on less than 100% QB Desean Watson to minimize his own mistakes (7 INTs), and make plays and passes like last week's victory (5 TD passes), and do so against a now deficient Denver defense allowing 373 yards per game to rank No. 22 in the league, and 85 yards per game worse than last season. The defensive coordinator will be sent packing too. Texans triumph.
Green Bay at New England – I played Green Bay (3-3-1) early week and also as a best bet at +6.5 in Wise Guys handicapping contest, and the number is dropping. Packers were most healthy and sharp in last week's 29-27 loss to the undefeated Rams, but the Packers out-played LA and had a strong 6.9 yards per play with QB Aaron Rodgers performing great again. Green Bay then unloaded Ty Montgomery following the game after his fk-up kickoff return fumble and his other complaints during the game. Green Bay's special teams have been an issue, and now the Packers travel to Foxboro, where the Patriots (6-2) are off a short week following Monday's win and miracle cover at Buffalo, 25-6. My projections have Green Bay with more total yards and Rodgers (13 TD, 1 INT) out-dueling Brady in a marquee Sunday night showdown.
Tennessee at Dallas – Monday night match-up and both teams enter off bye week with the same 3-4 record. Urgency if they want to make a push for the playoffs, but betting on either side brings concerns on offense with both teams averaging less than 2 TD's per game to rank among worst in the league. Titans also have scored just 3 TD's in its last 45 drives, and Mariota is another quarterback underperforming with just 3 TD passes and 5 interceptions. So is RB Derrick Henry, and extra week of prep needed against a strong Dallas defense that ranks top-3 allowing just 313 YPG even with LB Sean Lee missing some time. Dallas is 3-0 at home, and blew out Jaguars last home game, but running game could be hindered with pro bowl guard Zack Martin questionable (MCL). Advance line out of Las Vegas had Dallas -4, and while they add WR Amari Cooper to help the poor passing attack, the Titans offer some value here in what should be a very low scoring game with UNDER the total an even better play.
Best wishes in your NFL Week 9 picks.
FairwayJay is a leading national sports analyst and is recognized as one of the sports industry's most insightful handicappers and professionals. Follow him on Twitter: @FairwayJay