Fairway's Football Forecast – Week 5 NFL Picks and Predictions
FairwayJay lends his expertise again in Week 5 Underdog Picks and Tips. 16-8 ATS on last season's 'Dog log, FairwayJay is making birdies and green through the opening quarter of the season at 9-5 ATS following last week's 3-1 'Dog log with two more outright underdog winners. 
Identifying NFL Underdogs and Parlays for Profit – Week 5 NFL Picks
Throughout the pro football season, we'll post NFL picks, predictions and parlays with a focus on underdogs. Like our weekly college football picks and parlay for profit underdog picks and predictions, we'll take a similar approach in the NFL. However, with fewer games each week, finding four underdogs to join Fairway's Foursome is far more challenging. Still, we'll Chip-in our thoughts and analysis, and perhaps modify our course management along the way.
Following a 3-1 ATS result with two outright more outright winners in Week 4, we're now 9-5 ATS on these pages with our 'Dog log. My strongest play last week was on the Chicago Bears (-3), who buried the Buccaneers 48-10. So Fairway likes favorites too, but a man's best friend is a 'Dog, and especially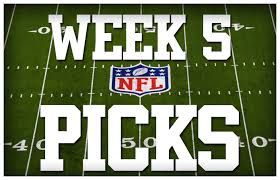 one that protects it's home turf like we'll try this week with two perceived 'bad' teams; the Browns and Jets, calling on two training rookie quarterback to take our command and hoping too that Cleveland doesn't sh*t in the Dawg pound. Many people including this bureau have made it known what they think of the Browns crappy coach, who should have been been removed of his duties as an incompetent trainer and leader some time ago. His leash was long, and now it's time to produce, even after last week's ridiculous replay call that cost Cleveland a victory.
Do your best throughout each week to anticipate line moves and bet the best numbers, including with your Week 5 NFL picks. With so many offshore options and leading online sportsbooks to choose from and compare, it should be reasonable to expect using due diligence in your search for the best numbers. That said, we release these plays late in the week and can't always provide the best numbers, but we'll continue to chip-in our best to make more birdies and get the green.
Risk vs. reward and searching for value is something bettors should shoot for in their pursuit of profit. Competitively-priced underdogs are always worth consideration, as many of these barking 'Dogs can not only have your wager secured in the later stages of a football game, but some will also have a solid shot to win outright. Thus, money line wagers should also be part of your betting portfolio. We've had six outright underdog winners through 4 weeks in our 9-5 ATS start through the first quarter of the season selecting only underdogs.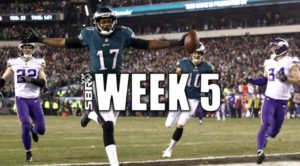 In the NFL, competitively-priced underdogs are 6-points or less. We'll add in some bigger 'Dogs along the way like we did last week with the 49ers (+10.5) winner, as San Fran just missed eating the whole dessert in a 29-27 lost at Los Angeles. Straight wagers are the focus and prudent plays but we add some parlays and guidelines knowing too it's difficult to not only hit a straight parlay, but especially a money line 'Dog parlay. However, the payoff is sure sweet if it delivers. Know too that just 3 'Dogs on the 15-game Week 4 card won outright, and we had two of them in our Fairway foursome pick pack.
So join Fairway's Foursome and follow along as we fire for the flag and go for the green in our weekly pursuit of profit (doggy style) with Fairway's Football Forecast.
This week's picks and plays – Shop lines at the leading online sports books.  Bovada and reduced juice sportsbook 5Dimes have the lines listed below this week for our Week 5 NFL picks, as do the sportsbooks in Las Vegas.
452 Cleveland (+3) vs Baltimore – Browns Money Line +145
453 Jacksonville (+3) at Kansas City – Jaguars Money Line +130
460 NY Jets (+1.5) vs Denver – Jets Money Line +105
477 Washington (+6.5) at New Orleans – Redskins Money Line +220
$20 4-Team Money Line Parlay = $719
$20 4-Team Parlay = $220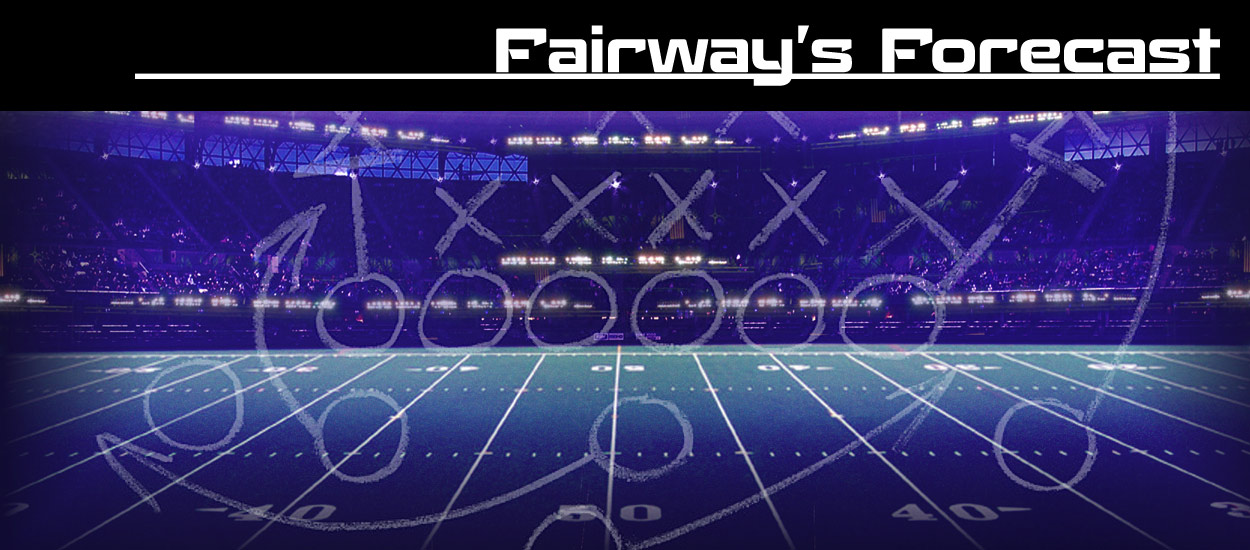 Baltimore at Cleveland – We cashed with the Ravens outright last week at Pittsburgh, and now that bullish Baltimore defense goes from Big Ben to pressuring rookie QB Baker Mayfield. The separation on the sidelines in competence and coaching is even greater with John Harbaugh over hopeless Hugh Jackson. But we still come back with Cleveland following last week's officiating gaffe that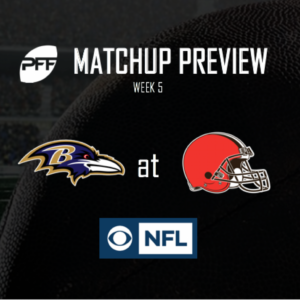 cost Cleveland backers in defeat. The Browns are not bad, despite finding more ways to lose, or tie games. The defense is decent but the stats don't show it, and certainly not as strong as the Ravens no. 2 defense. Still, Baltimore was blitzed early in a Week 2 loss at Cincinnati 34-23, and the Ravens running game will try to be more involved this week. We played this total early in the week and expect less scoring, and I used UNDER the total as a Best Bet in the Wise Guys contest, where I'm tied for 2nd place and 4-0 on Best Bets this season. The market agrees, as the total has dropped from 47.5 to 44.5. Cleveland's defense is better than it's shown, and while their is a concern about a rookie QB playing a top-tier defense statistically, we see more balance and plenty of carries for Carlos Hyde and rookie-of-the-week Nick Chubb. Don't expect the Ravens to be as sharp after last week's big win over their biggest rival. The bad Browns bounce back.
Jacksonville at Kansas City – Well, our biggest play of the early season was on the Bears last week in their burial of the Buccaneers 48-10. That's what usually happens when a strong defense plays a high-flying offense with a deficient defense. While were not suggesting that will happen with the Jaguars No. 1 defense (259 YPG/4.5 yards per play) against the Chiefs No. 32 defense (452/6.7), we can start with that confidence and feel better that the Jags will slow down the early season MVP Patrick Mahomes. Denver did for three quarters last week until blowing a 10-point fourth quarter lead. Both teams are rushing for 113 YPG, but the Jaguars have been without their star RB Leonard Fournette, who is out again this week (hamstring). Still, while the Chief remain the AFC's only unbeaten team (4-0), and are strong at home with coach Andy Reid and his offensive coordinator calling the right shots, we'll take the superior defense that also ranks No. 2 in limiting TE's, which should help slow Travis Kelce as the Jaguars pressure Mahomes more than he's seen all season.
Denver at NY Jets – Bovada is dealing +1.5, but you're fine taking +1 or even pick. This is not only a tough spot for Denver traveling East off a devastating and deflating loss to Kansas City, but also a game where we could see the Broncos lacking a late kick. Another clueless coach (Joseph) who may find the firing line for GM John Elway, who did not make the best hire last year and is still paying for it this season, as we noted in our season win total winner last year in Denver's 5-win season. Denver does some things well that I like, such as run the ball for 148 yards per game. Why just 26 carries per game, which is near league average? That's 5.6 yards per rush, which ranks No. 2 in the league. Yet when the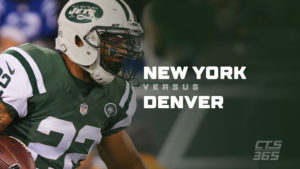 chips were down last week and the Broncos leading 23-13 in the 4th quarter at home, Denver managed less than 10 of its 159 rushing yards in the final frame. The once dominant Denver defense is now allowing 366 YPG which is near league average and 5.7 yards per play which is below average. Even the Jets are allowing fewer yards and just 5.2 yards per play. And the Jets are desperate losing 3-straight after winning opening week in impressive fashion at Detroit. Did I mention that Denver lost it's only road game this season and 7 times on the road last year with their only victory over the 4-win Colts? They travel to winless Arizona in two weeks, but that's after losing this week to the Jets and next week against the Rams. The Jets offense has been bad for three straight games scoring 12-17-12 points and now averages less than 300 yards per game. Rookie QB Sam Darnold is going through the typical up-and-down struggles of a rookie quarterback, but he'll get more balance from his running game this week after New York rushed for just 34 yards on 14 carries against the Jaguars stone wall defense while playing from behind last week. All-in this week with the chips down for the Jets against deflated Denver, as the situation and spot suggests struggles for the bucking Broncos who no longer have any kick.
Washington at New Orleans – Monday night in the Big Easy as Saints QB Drew Brees goes for the all-time passing yards record. He'll likely get it as he passes for more than 201 yards, but it won't be easy, even with more strength in the backfield as Mark Ingram returns from a 4-game suspension. Running back Alvin Kamara does it all and gives Brees another back to catch balls out of the backfield.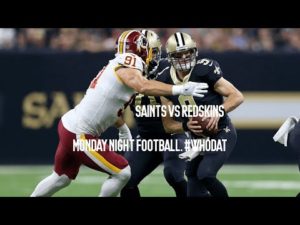 Brees targets running backs with 34% of his passes; second most in the league, but the Redskins strength is defending those passes to the running backs. Wide receiver Michael Thomas completes the triumphant trifecta for the Saints top offense, which is averaging 34 points and 418 yards per game. But Washington's defense has been best limiting explosive plays, and it's pass defense is No. 3 in yards allowed at 187 per game while facing Aaron Rodgers and Andrew Luck. The Redskins also run the ball a league-high 33 times per game, which if you've read my weekly Inside the Numbers articles, translates into success both on the scoreboard and when betting. Alex Smith is underrated when throwing downfield, and the Saints got torched on this field in a 48-40 loss and also by the Falcons. The two teams the Saints beat were the Giants and Browns on this field, when they trailed and were lucky to win with Tyrod Taylor at quarterback. Washington enters the bright lights of Monday night football off a bye and their beating of the Packers 31-17. Hopefully Washington has not been distracted by the crazy chaos and corruption in our nations capital. No, coach Gruden, the winning one, has the first place Redskins ready for this showdown against the Saints. Another 'Dog that can bark and deliver man's best friend the cash.
Best wishes with your NFL Week 5 picks in your pursuit of profit.
Article posted at osga.com.
FairwayJay is a leading national sports analyst and is recognized as one of the sports industry's most insightful handicappers and professionals. Follow him on Twitter: @FairwayJay