Fairway's Football Forecast – Week 4 NFL Picks and Predictions
FairwayJay lends his expertise again in Week 4 NFL Picks and Tips. 16-8 ATS on last season's 'Dog log, Fairway's Football Forecast is making birdies and green early this season 6-4 ATS.
Identifying NFL Underdogs and Parlays for Profit – Week 4 NFL Picks
Throughout the pro football season, we'll post NFL picks, predictions and parlays with a focus on underdogs. Like our weekly college football picks and parlay for profit underdog picks and predictions, we'll take a similar approach in the NFL. However, with fewer games each week, finding four underdogs to join Fairway's Foursome is far more challenging. Still, we'll Chip-in our thoughts and analysis, and perhaps modify our course management along the way. The U.S. Ryder Cup team needs to modify their plans and improve their play as they continue against Team Europe in France this weekend.
Following a 3-1 ATS result with two outright 'Dog winners in Week 2, we modified our course management in Week 3 and went 1-1 on our 'Dog log. However, the winner was a big one and contrary call on Detroit (+7) over New England, and the Lions roared in their den and pummeled the Patriots 26-10. I split out 4-4 in all my plays last week, and not good enough game selection management as our smaller bets and opinions went 5-0.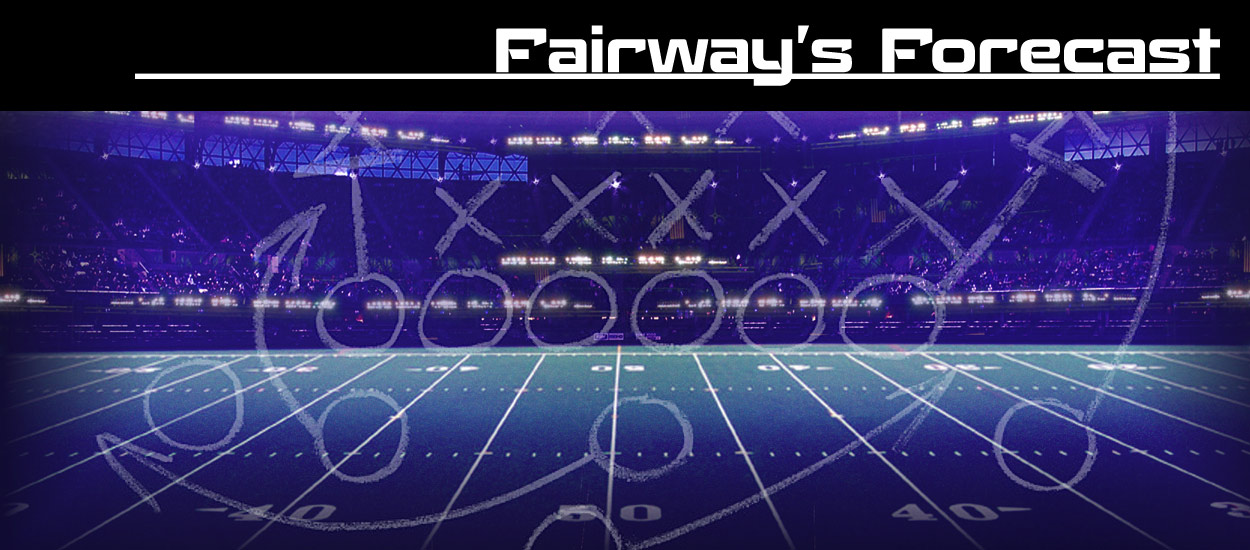 Do your best throughout each week to anticipate line moves and bet the best numbers, including with your Week 4 NFL picks. With so many offshore options, national U.S sportsbooks and brands, and leading online sportsbooks to choose from and compare lines and odds, it should be reasonable to expect using due diligence in your search for the best numbers. That said, we release these plays late in the week and can't always provide the best numbers, but we'll continue to chip-in our best to make more birdies and get the green.
Risk vs. reward and searching for value is something bettors should shoot for in their pursuit of profit. Competitively-priced underdogs are always worth consideration, as many of these barking 'Dogs can not only have your wager secured in the later stages of a football game, but some will also have a solid shot to win outright. Thus, money line wagers should also be part of your betting portfolio. We've had four outright underdog winners through 3 weeks in our 6-4 ATS start selecting only underdogs.
I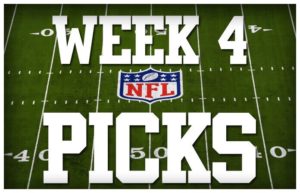 n the NFL, competitively-priced underdogs are 6-points or less. We'll add in some bigger 'Dogs along the way like this week with our Week 4 NFL picks, but note too you can evaluate these selected teams and consider using them in your straight wagers and parlays without money lines. It's very difficult to hit an underdog money line parlay. But we'll provide the potential payoffs with a small wager each week along with a straight parlay. Straight win wagers are a far more prudent play, but I know from experience that bettors like a bigger score with less risk and want to parlay their profits.
So join Fairway's Foursome and follow along as we fire for the flag and go for the green in our weekly pursuit of profit (doggy style) with Fairway's Football Forecast.
This week's picks and plays – Shop lines at the leading online sports books.  Bovada and reduced juice sportsbook 5Dimes have the lines listed below for our Week 4 NFL picks, as do the sportsbooks in Las Vegas.
251 Miami (+7) at New England – Dolphins Money Line +240
255 Cincinnati (+4) at Atlanta – Bengals Money Line +175
271 San Francisco (+10.5) at San Diego – 49ers Money Line +340
274 Baltimore (+3) at Pittsburgh – Ravens Money Line +135
$20 4-Team Money Line Parlay = $1,913
$20 4-Team Parlay = $220
Miami at New England – Despite all the positive trends pointing towards New England again this week, and nearly assured of an all-in effort, we swim with the Dolphins (3-0), the current leaders in the AFC East. New England (1-2) was completely out-played at Detroit last week, and we were on the Lions (+7) in the 'Dogs 26-10 victory. While the spot seems right for New England, and Miami has lost 8 straight in Foxboro, we still won't endorse the Patriots,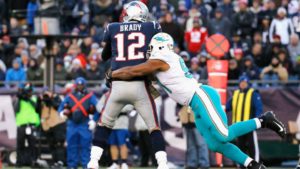 who are dealing with a number of injuries and banged up players. So is Miami, which is our biggest concern, especially along the defensive line. Naysayers may not be impressed with Miami's victories over Tennessee, NY Jets and Oakland, but you're impressed with the Patriots fortunate victory over winless Houston followed by QB Blake Bortles tearing the Patriots apart and then Detroit dominating the Pats last week? Anticipation, interpreting data and understanding match-ups and situations is part of figuring out the craziness of this year's early NFL season. So too is knowing when a team is struggling and not as good as the media and everyone else seems to believe. Division game, and it means just as much to Miami. Maybe more.
Cincinnati at Atlanta – Speaking of injuries, Atlanta (1-2) is suffering significantly on the defensive side of the ball and it really showed up in last week's overtime loss to the Saints, 43-37. New Orleans torched Atlanta for a week high 534 yards at 6.9 yards per play. Along with the emotional impact and letdown, the Falcons injuries, now also including RB Devonte Freeman, leave them fewer shots in the bag. The Bengals (2-1) couldn't overcome 4 interceptions by QB Andy Dalton in a 31-21 loss at Carolina last week. But the offense was still efficient, and star wide receiver AJ Green will play this week. Cincinnati played from behind last week and had to abandon the running game more than planned, and Dalton's pick problems were costly. But the Falcons ground game is a concern as is the coordination of both the offense and defense. Best line of 5.5 was gone earlier in week, and the 4's likely gone by Sunday too as the Bengals get more support.
San Francisco at San Diego – The 49er's start a QB that struggled last year as a rookie, as CJ Beathard takes over following Garoppolo's season-ending injury last week. But the 49er's offensive line is stronger and opening holes for the No. 2 rushing attack in the league (153/game). That's more meaningful in this match-up taking double-digits with a lesser-established quarterback but also against a Chargers defense that that allowed 171 last week in defeat to the Rams. San Diego really misses Pro Bowl defensive end Joey Bosa (foot), who is out until November. The Chargers lack of pass rush and just five sacks is aided by facing Beathard and not Jimmy G, but this is still a big line correction and the 49ers are far from an empty bag. Especially on the sidelines with a far superior coach to call the plays and prepare his players. Additional injuries to the Chargers offensive line and less than full strength WR Keenan Allen makes the Chargers a bigger risk laying this price, even with quality quarterback and competitor Phillip Rivers making the reads and throws.  Hopefully, the 49ers don't suffer a letdown losing their top QB and leader, and can give its sub-par QB Beathard enough support.
Baltimore at Pittsburgh – We cashed last Sunday Night's prime time game when Detroit surprised New England and most football fans and pounded the Patriots 26-10 in the Lions den. We also took a piece of Pittsburgh as 'Dog Monday night, and we're back on a prime time 'Dog again this week in a big AFC rivalry that has seen a much higher total than more recent series results suggest. Perhaps that because the Steelers won last year's meeting here at Heinz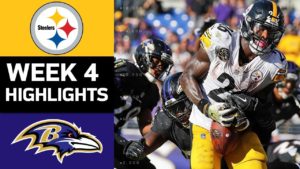 Field 39-38. Or perhaps it's because the Pittsburgh defense has been deficient and its offense is firing behind QB Big Ben. But both Flacco and Roethlisberger are passing for more than 290 yards per game and are top-10 in big pass plays. But it's the Raves pass defense that is top-10 in defending the pass while the Steelers are bottom 10. That despite Baltimore still without suspended CB Jimmy Smith. The Ravens are allowing just 52% completions and 4.3 yards per pass play. Still not impressed enough with the Steelers, despite its talent. Baltimore quality coach John Harbaugh will have the Ravens ready for redemption following a pair of losses to rival Steelers last season. Pittsburgh is 0-5 ATS its last five home games as a favorite, and Sunday night home favorite are 22-40 ATS against a division opponent off a win. Don't get in the habit of laying points with deficient defenses that allow more than 400 yards per game. That's also part of the theme this week as Pittsburgh, Atlanta and New England are all favorites with those poor 400-yard defenses. So are New Orleans and Kansas City this week on the road, and the Chargers allow 392. Bettor beware of the barking 'Dog when making your Week 4 NFL picks.
Article posted at osga.com.
FairwayJay is a leading national sports analyst and is recognized as one of the sports industry's most insightful handicappers and professionals. Follow him on Twitter: @FairwayJay