Fairway's College Football Forecast Produces Profit in September
Fairway's Football Forecast Produces September Profit on College Football Underdogs
Each week during the college football season, I post four college football underdog picks and plays. I came up with a creative idea and decided to post plays and provide college football fans and bettors of all levels some selections and additional ways to bet these underdogs. Straight wagers, money line, and a money line parlay and straight parlay are part of our College Football Challenge.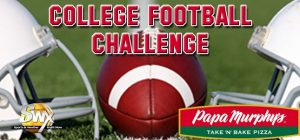 Using a theoretical $1,000 bankroll each week and selecting ONLY underdogs, Fairway's Football Forecast went 10-6 ATS with six outright underdog winners in September. I started doing this last season and went 14-10 ATS keeping a running log each week, and decided to update this year after every month of college football action.
The weekly links below will take you to our selections posted initially at the Offshore Gaming Association (osga.com), and can also be found on VegasSportsZone.com. Our goal is to provide winning selections with analysis, and show a profit. The added parlays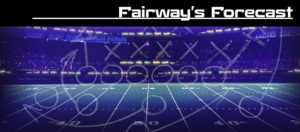 including money line parlays are very difficult to hit, but I break down the wagering strategy and results. We did have a 4-0 sweep in Week 4.
While straight wagers are a more prudent and preferred play, I know from experience that bettors like a bigger score with less risk.
Here's the guideline and betting strategy with figures below for September.  Lines used are widely available along with money-lines from both leading offshore sports books and Las Vegas sports books at time of post the end of each week.
FairwayJay's $1,000 College Football Challenge – 4 Underdog Plays
A $200 wager on each team to cover the point spread ($800).

A $40 wager on the money line for each underdog to win the game outright ($160).
A $20 wager on a 4-team Money Line Parlay ($20)
A $20 wager on a 4-team Parlay ($20)
Week 1 – Pass, to run selections alongside the NFL schedule
Week 2: (1-3 ATS). Side plays -$460. Total including money lines and parlays -$660
Week 3: (3-1 ATS with 3 outright 'Dog winners). Side plays +$380. YTD 4-4 ATS -$80. YTD including money lines and parlays -$222
Week 4: (4-0 ATS with 2 outright 'Dog winners). Side plays +$800. YTD 8-4 ATS +$720. YTD including money lines and parlays +592
Week 5: (2-2 ATS with 1 outright 'Dog winner). Side plays -$40. YTD 10-6 ATS +680. YTD including money lines and parlays +$450.
Looking at our results objectively, we've had 1 fortunate late ATS winners and 2 unfortunate late ATS losses, No. Illinois (+10.5 here, closed 12, lost by 11 on late pick-6 in Week 3), and Arizona (+3.5) in Week 5, although the Wildcats were dominated, but scored a late TD to cut margin to 24-20 and then missed the PAT kick. We just missed a huge money line on Syracuse (+25.5) at +1320, which would boost any bankroll on a big score.
We had 6 outright underdog winners in our 10-6 ATS September 'Dog log, and those outright 'Dog winners produced +$398 on money line wagers at $40/each.
Straight side wagers produced +$680 profit going 10-6 ATS.
Follow along each week as we shoot for more Winners and Green and Parlay our Profit.
FairwayJay is a leading national sports analyst and is recognized as one of the sports industry's most insightful handicappers and professionals. Follow him on Twitter: @FairwayJay