College Football Week 9 Underdog Picks and Predictions
Identifying College Football Underdogs and Parlays for Profit – College Football Week 9 
Professional sports handicapper FairwayJay continues his search for value and underdog winners with his Week 9 College Football Picks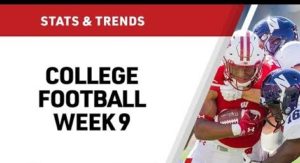 The final weekend of college football in October has arrived, and the contenders are separating from the pretenders. Many teams are still pushing for a winning season and bowl bid, while the highly-ranked teams are shooting for a conference title, championship game, New Year's Day bowl bid or even a shot at the National Championship in the college football playoff.
We've broken down some statistical profiles of stronger, balanced offensive teams along with defensive dominators that should assist you in your pursuit of profit and more winners the rest of the season.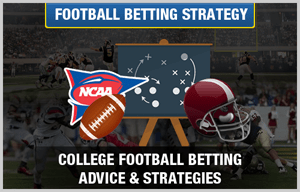 Off a bad 1-3 week on these pages that included a tough luck overtime loss on Cincinnati (+3.5) and our only win, a big one on Purdue (+13), in the Boilermakers blasting of No. 2 Ohio State 49-20. We'll try to swing the club with more accuracy and force this week as we continue our risk vs. reward and search for value with both competitively-priced live underdogs and big 'Dogs like Purdue last week.
As power ratings, performances and perceptions continue to change and the sportsbooks make adjustments in price, we continue to adjust and note not only statistical strength that supports our position, but scheduling, motivation and letdown situations and profiles that point us towards more winners and profit.
Here's a brief recap of the light week of underdog winners that won outright last week.
Virginia (+6.5) at Duke – Cavaliers won 28-14
Purdue (+13) vs Ohio State – Boilermakers won 49-20
Buffalo (+3) at Toledo – Bulls won 31-17
SMU (+9.5) at Tulane – Mustangs won 27-23– Bruins won 37-7
Let's continue our pursuit of profit in Fairway's Foursome as we fire for the flag and go for the green in our weekly pursuit of profit (doggy style) with Fairway's Football Forecast. Now 15-14 ATS this season with 9 outright underdog winners, let's see if we can come up with more winners this week as our theme is to back and bet on quality winning teams taking back a tag with three of them a TD or more underdog.
Shop and bet Week 9 College Football at the leading online sportsbooks, along with the top sportsbooks in Las Vegas.
168 Florida  (+7) vs Georgia – Gators Money Line +235
173 Texas A&M (+2) at Mississippi State – Aggies Money Line +110
185 Iowa (+7, -130) at Penn State – Hawkeye's Money Line +210
206 Florida State (+17) vs Clemson – Seminoles Money Line +560
$20 4-Team Parlay = $220
$20 4-Team Money Line Parlay = $2,951
Florida vs Georgia – Game on neutral field in Jacksonville known for years as the 'World's Largest Outdoor Cocktail Party", and we bite with the Gators getting these points in an expected lower-scoring game. Betting under 52 looks like a prudent play as well, as both teams meet our defensive dominator criteria with very similar defensive stats and profiles. Both teams are 4-1 and tied with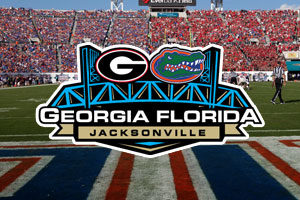 Kentucky on top of the SEC East division, so much at stake. Florida has the better wins including over LSU, while Georgia's only loss was to LSU and it wasn't that close. First year head coach Dan Mullen is already making a difference at Florida after much success at Mississippi State. A run first approach with at least 200 rushing yards against Tennessee, Vanderbilt and LSU's stout defense, the Gators can use more play action and even first down passes with big body QB Feleipe Franks to keep the Bulldogs off balance. Franks has shown much better awareness, accuracy and touch in the passing game this season, and he'll have to make the proper reads and plays against the dominant 'Dawgs for the Gators to win and erase Florida's worst loss to Georgia in 35 years last season. Taking these points against an opponent that could struggle to score more than 24 is a prudent play.
Texas A&M at Mississippi State – The Aggies (5-2) remain underrated in the market despite a 6-1 ATS mark. Texas A&M has only two losses against Alabama and Clemson, and the Aggies are in a solid spot this week off a bye while Mississippi State (4-3) comes off a grueling defensive struggle in a 19-3 loss at LSU last week. The Bulldogs are a defensive dominator and allow less than 290 yards per game,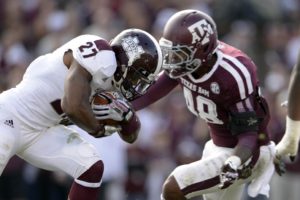 but face a more capable Aggies offense this week. Texas A&M is scoring nearly 30 points per game against a strong schedule and do much of their damage through the air with dual QB Kellen Mond passing for 1800 yards. Texas A&M is also closing in on defensive dominator status, and the Aggies have only allowed Alabama and Clemson more than 300 yards offense. A&M's run defense is stout allowing just 88 YPG. Against its three strongest opponents, Mississippi State has scored 7, 6 and 3 points against Kentucky, Florida and LSU. Bulldogs QB Nick Fitzgerald is completing less than 47% of his passes and is looking for confidence following 4 INTs and just 59 passing yards in last week's loss. He'll have a tough time leading MSU to bounce back, while first year A&M head coach Jimbo Fisher has the Aggies fresh and ready for redemption.
Iowa at Penn State
 – If you can't beat 'em join 'em, especially when they are a 
defensive dominator
 like Iowa and mentally tough and motivated. Iowa (6-1 SU/ATS) lost to Penn State (5-2) last season on a last second TD, 21-19.  The 
Nittany Lions
 dominated the stats, but they won't this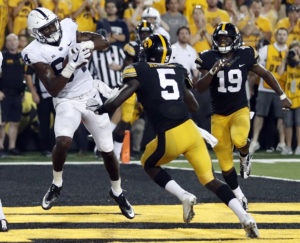 season with Iowa's defense allowing just 263 YPG, 92 rushing YPG and 14 points per game; all top-5 in the country vs. FBS opponents. Penn State does have a strong, 
balanced offense,
 but the 
Hawkeyes
 are efficient with less fluff while out-gaining Big Ten opponents by more than 100 yards per game. Penn State was out-gained last week by nearly 140 yards at Indiana,  who gained 554 in defeat. Penn State is just +36 YPG in Big Ten play, and lost on this field two weeks ago to similar style and strong defense of Michigan State. Hawkeye's can control the ball, clock and chains again in a competitive contest.
Clemson at Florida State – This game does not look competitive by the point spread, but these lines are sure high and even inflated many weeks on the top teams. That would be Clemson (7-0), who is ranked No. 2 in the country and has its own defensive dominator stop unit. But its not been that easy for the Tigers, who  escaped with close, late wins against Syracuse and at Texas A&M. Some inconsistent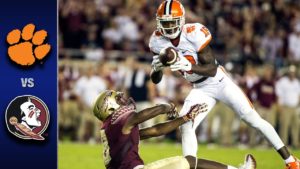 play follows Florida State with its QB Deondre Francois, who has had his best games at home. And FSU is returning home off its best and most complete game of the season in beating Wake Forest, 38-17. The week before, FSU led Miami 27-7 on the road late in the 3rd quarter before losing 28-27 as a double-digit 'Dog. Francois will need to make some plays in the passing game, and if he protects the ball and isn't a bonehead this week, then FSU covers and has a chance to win. If not, then FSU's strong run defense allowing just 4.1 YPR and 113 rushing YPG to match Clemson may be the difference in defeat. Clemson has held each of its last five opponents to season-low yards, but Florida State players are aware of the point spread and appear motivated. The 17-point spread is the largest home deficit Florida State has faced in more than 30 years. We'll take that and the Seminoles in an ACC showdown in the Sunshine state.
Best wishes as you fire for more Week 9 College Football winners, and hopefully profit from my experience as we cash in on some determined 'Dogs this week.
FairwayJay is a leading national sports analyst and is recognized as one of the sports industry's most insightful handicappers and professionals. Follow him on Twitter: @FairwayJay