College Football Week 5 Underdog Picks and Predictions
Identifying College Football Underdogs and Parlays for Profit
Off a 4-0 week in college football and 7-1 the last two weeks, FairwayJay continues to chip-in birdies and add his insight and analysis for Fairway's Followers. Follow along as Fairway fires for the flag and green in pursuit of profit – underdog style.
Following a strong Week 3 on these pages that showed a 3-1 ATS result with three outright winners isolating underdogs, we went a perfect 4-0 in Week 4 with two more outright 'Dog winners. It was another huge week personally going 8-1 on all side plays. Our 'Dog log on these pages is now 8-4 ATS and we'll continue our risk vs. reward and search for value and live underdogs in our weekly pursuit of profit.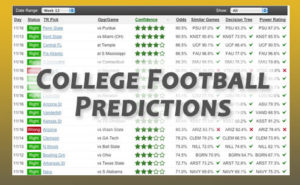 Competitively-priced underdogs are always worth examining, as many of these barking 'Dogs can not only have your wager secured in the later stages of a football game, but some will also have a solid shot to win outright. In the last two weeks we've nailed some solid outright underdog winners including Purdue (+7) 30-13, Texas (+3) 31-16, Syracuse (+3) 30-7, North Texas (+7) 44-17 and San Diego State (+6) 28-21. We cashed a pair of double-digit 'Dogs last week including Missouri (+14.5), who lost by 14 to No. 2 Georgia despite numerous costly turnovers and fumble return touchdown.
The power ratings, performances and perceptions continue to change as the bookmaker makes adjustments in price. Hopefully you've seen the value of many of the underdogs with so many winning outright and delivering solid money line profits in addition to the straight side wagers. That includes on undefeated September surprises Duke, Kentucky and one of plays again this week, big 'Dog Syracuse who are all off to 4-0 starts. Many of you swept multiple parlays last week as well on our 4-0 sweep, and having the balls to play more underdogs and even double-digit 'Dogs like we cashed last week with Missouri (+14.5), Louisiana Tech (+21) and personally with Texas A&M (+27) against No. 1 Alabama.
Bet college football underdogs at Elite-Rated reduced juice sportsbook 5Dimes.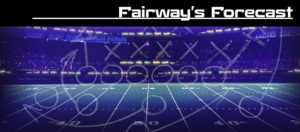 Follow along in Fairway's Foursome as we fire for the flag and go for the green in our weekly pursuit of profit (doggy style) with Fairway's Football Forecast.
Here's a brief recap of some underdogs of note that won outright last week. Not as many in FBS match-ups, but we nailed two more with Purdue and Texas. And Old Dominion (+29) pulled the super shocker beating #13 Virginia Tech, and Texas Tech (+14.5) also won big at Oklahoma State. Outright 'Dog winners listed in schedule rotation order from last week.
Western Kentucky (+3) at Ball State – Hilltoppers won 28-20
Purdue (+7) vs Boston College – Boilermakers won 30-13
North Carolina (+3) vs Pittsburgh – Tar Heels won 38-35
Kentucky (+10) vs Mississippi State – Wildcats won 28-7
Texas Tech (+14.5) at Oklahoma State – Red Raiders won 41-17
SMU (+6.5) vs Navy – Mustangss won 31-30 in OT
Coastal Carolina (+4) at UL Lafayette – Chanaliers won 30-28
Texas (+3) vs TCU – Longhorns won 31-16
Old Dominion (+29) vs Virginia Tech – Monarchs won 49-35
This week's underdog plays – Shop lines at the leading online sportsbooks.
115 Northern Illinois (+3.5) at Eastern Michigan – Huskies Money Line +145
129 Syracuse (+25.5) at Clemson – Orange Money Line +1320
202 Arizona (+3.5) vs USC – Wildcats Money Line +145
214 Cal (+2.5) vs Oregon – Golden Bears Money Line +125
$20 4-Team Parlay = $220
$15 3-Team Money Line Parlay = $250 (minus Syracuse)
$5   4-Team Money Line Parlay = $954
Northern Illinois at Eastern Michigan – We took a terrible beat on Northern Illinois in Week 2. First we released the Huskies +10.5 on these pages and the line went to +12.5 by Saturday. NIU did what we expected at home with their solid defense and trailed Utah in the final 2 minutes of the 4th quarter 10-6. Utah couldn't run out the clock, punted and No.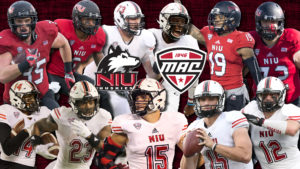 Illinois proceeded to throw a 40-yard pick-6 to lose 17-6. Ouch. NIU is now 1-3 SU and 0-4 ATS; one of 10 teams in the country that are winless ATS. We count on the strong early season schedule of NIU to help them in MAC play, as NIU has lost to Iowa, Utah and Florida State. We also count on the better running game and defense to deliver, as EMU (2-2 SU/3-1 ATS) is running for just 123 yards per game at 3.2 yards per rush and allowing 217 rushing YPG at 5.6 YPR following their third straight road game and draining overtime loss at San Diego State. Bad numbers, and now Northern Illinois is 'Dog as a series dominator in which they have beaten Eastern Michigan 10 straight times. Yes, EMU has lost each of the last two years to NIU in overtime and surely want this game as an improved program. We were one of the first to project big improvement on Eastern Michigan two years ago when the Eagles easily exceeded their season win total and are now 21-8 ATS since the start of the 2016 season. But Northern Illinois would have been a very slight favorite in this match-up at the start of the season, and along with their dominant road record in MAC play of 27-5 SU and 24-7-1 ATS, we like the fundamental match-ups and see the Huskies as a very live 'Dog Saturday in Ypsilanti.
Syracuse at Clemson – Big payback in Death Valley for Clemson, who took Syracuse a little too lightly and suffered a letdown last year in their only regular season loss, 27-24. The 'Cuse were a huge 24-point 'Dog last year and catching more points this season despite the undefeated Orange at 4-0 and possessing plenty of offensive firepower with 198 points led by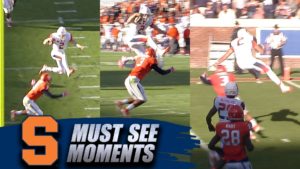 senior QB Eric Dungey. We had Syracuse on these pages when they beat Florida State, and while we don't expect a victory Saturday, we'll take the extra points knowing too that more money is flowing on the Tigers. Clemson coach Dabo Swinney has given the reigns to highly touted true freshman QB Trevor Lawrence this week, and coach will want to validate his decision by scoring every chance he can in payback mode. But after facing three option offenses and hanging on to beat Texas A&M, the Tigers and their dominant defensive front will try to slow the explosive Syracuse offense. Many are piling on No. 3-ranked Clemson (4-0) anticipating a blowout in revenge. We'll side with the sportsbooks need this week as our big 'Dog tries to hang with one of the country's biggest dogs.
USC at Arizona – You might recall our 'Death in the Desert' winner on Arizona State two weeks ago when they beat Michigan State outright at home. Now we head 100 miles South down I-10 from Tempe to Tucson for this competitively-priced PAC-12 contest. USC escaped with a 39-36 home win vs. Washington State last week to even their record at 2-2. But coach Clay Helton is not quality nor getting the best out of his talented Trojans, as USC is allowing 28 points per game and nearly 400 YPG, while rushing for just 110 YPG on offense. USC is also 0-4 ATS. A pair of road losses at Stanford and Texas showed the Trojans trounced quite handily, while their offense struggled, scoring 3 and 14 points in defeats. For Arizona, after opening with two losses and adjusting to new coach Kevin Sumlin, the light has come on for the Wildcats against two weaker teams while scoring 62 and 35 points and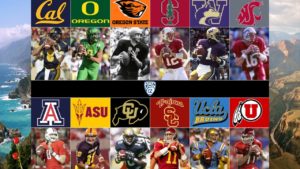 rushing for more than 440 yards at Oregon State last week. Arizona is more balanced on offense and multi-talented QB Khalil Tate is getting healthier (ankle). After facing the air-raid pass offense of Wazzu last week and running all over the field, the Trojans defense now travels and likely wears down in the second half in the 90's heat in Tucson Saturday night.
Oregon at Cal – Expecting a letdown here by Oregon, who completely blew the game last week against Stanford in a devastating and deflating overtime loss to Stanford, 38-31. Referencing our September bye week schedule, we note undefeated Cal (3-0) is rested and ready to dunk the Ducks in the Bears PAC-12 opener. Wins over North Carolina and BYU showed a much-improved defense under coordinator Tim DeRuyter (19 PPG), which is second in the country with 7 interceptions. Second-year Cal coach Justin Wilcox has coached up the Bears very well. Great situational spot along with a technical situation showing Game 4 teams off a bye and week of rest playing with single-season revenge are 31-13 ATS since 1980 according to Playbook, including 28-7 ATS against a conference opponent. Cal was 7-3 ATS as 'Dog last season, and the Bears have not allowed a touchdown in the first half of three games this season. Ducks defensive front has been strong, but Cal gets Oregon in a strong situational spot off a bye and the Ducks devastating and deflating loss. If you missed +3, still take the points and still add money line to your wagers.
A few Fairway favorites will also be in our portfolio this week as we continue our pursuit of profit and analysis to better inform and assist others with handicapping and approach shots that put the percentages in our favor to produce profit.
You can bet on it.
Article posted at osga.com.
FairwayJay is a leading national sports analyst and is recognized as one of the sports industry's most insightful handicappers and professionals. Follow him on Twitter: @FairwayJay