College Football Week 10 Underdog Picks and Predictions
Professional sports handicapper FairwayJay attacks some of the biggest games on the board in Week 10 action to kickoff November college football and the push towards the CFB playoff. Fairway's Football Forecast provides his weekly underdog only picks in search of value, positive indicators and profit.I
Identifying College Football Underdogs and Parlays for Profit – College Football Week 10
November arrives as does the first college football playoff rankings of the season this week, and four SEC teams are in the Top-10 and we'll be playing two of those teams as underdogs this week in huge SEC match-ups with first place on the line along with CFB playoff implications.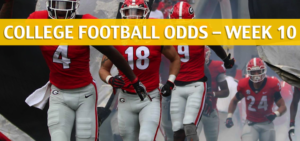 We've got some work to do as our last three weeks have been sub-par and losing ones, dropping the 'Dog log record on these pages to 16-17 ATS this season with 9 outright winners selecting only underdogs.
Hopefully the combination of our search for value, statistical indicators and use of our strong, balanced offenses and defensive dominators will point us towards more profit and winners.
Many outright underdog winners last week, and here's a recap of some notable barking 'Dogs.
Northwestern (+5) vs Wisconsin  – Wildcats won 31-17
Kansas (+13.5) vs TCU – Jayhawks won 27-26
Oregon State +25 at Colorado – Beavers big rally to win 41-34 OT
Northern Illinois (+6.5) at BYU – Huskies win 7-6
Washington State (+3) at Stanford – Cougars win 41-38, only team in the country perfect 8-0 ATS
California (+12) vs Washington – Golden Bears win 12-10
Kentucky (+7) at Missouri – Wildcats win 15-14
Let's continue our pursuit of profit in Fairway's Foursome in our weekly pursuit of profit (doggy style) with Fairway's Football Forecast. With 20 home underdogs of 3 or more points and most catching significant points as puppy on the Week 10 card, we fire for the flag and go for the green with these capable big 'Dogs looking to protect their home turf – against four teams ranked in the top-7 of the current college football playoff poll. Are you crazy Fairway? No, just brave, bold and looking for value and victories – from our winning teams as big 'home 'Dogs!
Shop and bet College Football at the leading online sportsbooks, including the Week 10 lines.
330 Kentucky (+9.5) vs Georgia – Wildcats Money Line +300
350 Texas Tech +13.5 vs Oklahoma – Red Raiders Money Line +415
356 Northwestern (+10) vs Notre Dame – Wildcats Money Line +315
420 LSU (+14.5) vs Alabama – Tigers Money Line +460
$20 4-Team Parlay = $220
$20 4-Team Money Line Parlay = $9,554
Georgia at Kentucky – First place SEC East showdown in Lexington on Breeders' Cup weekend in nearby Louisville. This line is dropping even more at the leading online sportsbooks after opening double digits and I noted such while also pointing out both teams as defensive dominators. Kentucky has been stronger allowing just 295 yards per game at 4.4 yards per play and a nation-best 13 points per game. The Wildcats have size, speed, depth and experience on defense, while also sporting the most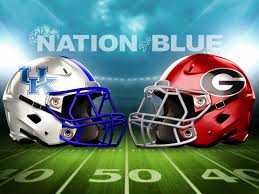 senior starters in the SEC. When we get an underdog at this price point greater than a touchdown and believe they will hold the opponent under 28 points, it becomes an automatic bet and a high percentage proven profitable play. Georgia does boast a strong, balanced offense with QB Jake Fromm directing the offense, and Fromm enters off SEC Offensive Player of the Week honors after his strong performance and key 3rd down plays in the Bulldogs most complete game of the season last week knocking off previous top-10 ranked Florida 36-17 in a game that was close and low scoring at halftime. Georgia is 12-3 ATS on the road under coach Kirby Smart and has beaten Kentucky five-straight times. But this will be the Bulldogs toughest test against these Wildcats. Kentucky RB Benny Snell Jr. will surpass 1,000 rushing yards for the season in this contest, and he's rushed for at least 120 yards in all three SEC home games this season. Georgia has allowed nearly 200 rushing yards per game in its last three contests, and its the Dawgs that may wear down more than the Cats in this first place showdown.
Oklahoma at Texas Tech – The stock can't get much higher for the Sooners, who are blasting opponents with one of the most explosive and efficient offenses in football. Dual threat QB Kyler Murray has 34 combined touchdowns in a breakout season for the Sooners. While they were tripped up by Texas on a neutral field 48-45 and outplayed by more than the score, Oklahoma bounced back to blast both TCU and Kansas State. The Sooners have won 18-straight true road games entering this Big 12 battle in Lubbock. The Red Raiders have allowed four opponents to score at least 40 points this season, including last week's gut-wrenching SU/ATS loss at Iowa State when freshman QB Alan Bowman threw 3 interceptions in a game that was tied 31-31 late in the fourth quarter. Bowman will have to bounce back with an air raid pass heavy attach that still runs for at least 150 yards per game. Texas Tech also has an improved defense allowing 28 points per game and less than 150 rushing yards per game. Those point of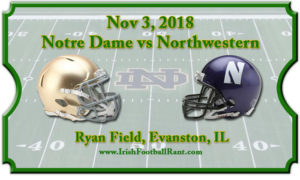 attach rushing numbers have the TTRR fit a 'Dog situation that is 23-11 ATS since October and also applies to both Kentucky and LSU as 'Dogs this week. Guns up and 'blazing for the Red Raiders as big home 'Dog this week.
Notre Dame at Northwestern – Will Notre Dame (8-0) go undefeated and make the college football playoff? One loss will keep the Irish out of the CFB final four, and the Irish have burned their betting backers in the month of November under coach Brian Kelly going 3-14 ATS the past four years. Northwestern (5-3) is a very capable 'Cat playing its best ball entering this exciting match-up in Evanston, as the Wildcats now lead the Big Ten West at 5-1 after a 31-17 win over Wisconsin last week. Senior QB Clayton Thorson is not flashy, just consistent running the offense like his coach, Pat Fitzgerald, who's Wildcats are always most dangerous in this big 'Dog role. Notre Dame beat Navy last week 44-22, but allowed the Midshipman and its triple option attack to rush for nearly 300 yards. That could wear on the Irish this week, and Notre Dame is just 3-11 ATS following Navy games. Notre Dame's defense has been good enough to hold four of its last five Big Ten opponents to 20 points or less including Michigan in a 20-17 loss on this field. Notre Dame plays just its third true road game of the season, and the Irish are on upset alert as the pressure mounts to stay unbeaten and make the college football playoff.
Alabama at LSU – Both these enter off its bye week for this SEC first place showdown, and each team is a defensive dominator. But Alabama (8-0/5-0 SEC) does not boast an elite defense like recent seasons and LSU (7-1/4-1 SEC) has played the stronger schedule to date while defeating four ranked teams. The Tigers are also the only team in the country to have victories over six winning teams.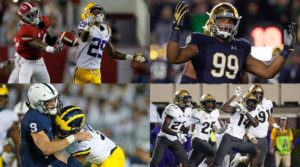 Alabama has only played two teams with a winning record, but has its toughest tests in November. The Crimson Tide do, however, have the no. 1 scoring team in the country at 54 points per game and a QB that has passed for 25 TDs and ZERO interceptions while passing for an incredible 13.6 yards per pass. That would be QB Tra Tagovialoa, not Jalen Hurts, who now comes off the bench each week as backup after leading the 'Tide the past two seasons including victories over LSU 24-10 and 10-0 on this field in 2016. Alabama has only scored more than 30 points against LSU in one of the last eight meetings, and the Tigers have held the 'Tide 15 points below their season average in those contests. While that was when 'Bama was scoring closer to 38 points per game, this is still too many points to be giving an LSU, who has one of the strongest home fields in college football the past two decades going 113-18 SU at home with just four losses by more than 14 points and just one in the past decade. Could this be an SEC shocker? We'll settle for the cash.
Best wishes in your pursuit of profit, and for some of these 'Dogs to lead us to a November knockout.
Article posted at osga.com.
FairwayJay is a leading national sports analyst and is recognized as one of the sports industry's most insightful handicappers and professionals. Follow him on Twitter: @FairwayJay