College Football Week 1 Lines, Moves And Money
In my recent article at Forbes, I provide Week 1 lines, and where the money has moved them since initially released in early June.
Clemson And Alabama Headline College Football Week 1 Major Line Moves And Betting Action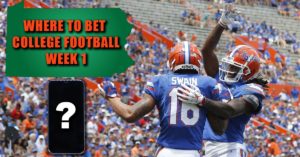 The moves include comments from a leading online sportsbook director about a number of top-25 teams and games taking the most betting action. That includes on Alabama, who was bet from an opener of -30 to a 35-point favorite and is now settling near -33.
"Alabama's propensity to blow teams out early in the season has led to a perfect storm where sharps and public bettors are both on the Tide, which prompted the big line adjustment. The perennial dominance is always pushing the odds for this team, and we have seen it easily cover the last three season openers," head linemaker Adam Burns of BetOnline told me via email.
You can follow all the line moves and live college football odds with percentages of bets on sides, totals and moneylines at Sports Insights, which tracks data and betting information from seven leading online sportsbooks.
Top-25 teams that have seen at least a 3-point line move in their favor include: Clemson, Alabama, Ohio State, Michigan, Michigan State, Wisconsin, Nebraska.
Week 1 lines for the top-25 teams, plus all the scores and odds each week.
Florida beat Miami 24-20 last week (1a) in a sloppy, turnover-filled game in which we played the UNDER early it 50 before it closed at 46. A fairly fortunate winner to hang on with the turnovers and some in the red zone. Our opening side play on Hawaii (+11) was easier than the final score, as Hawaii outplayed Arizona and could have won by a larger margin in the Warriors 45-38 win.
We'll have more college football games to evaluate and provide analysis in our weekly underdogs picks and predictions, which was popular again last season.
FairwayJay is a leading national sports analyst and is recognized as one of the sports industry's most insightful handicappers and professionals. Follow him on Twitter: @FairwayJay