College Football Teams September Surprises
College Football Teams Exceeding Expectations in September
College football's final weekend of September is ahead, and we're seeing some early season surprises and teams exceeding expectations. Along with early season success comes adjustments in power ratings and betting lines at the sportsbooks, and the key to handicapping and evaluating teams early season success is to dig deeper into the stats, schedules and performance and not focus on won/loss records and media hype. We've been able to sort through the stats and put the puzzle pieces together in our point spread prognosis, which is off to an 8-4 ATS start following last week's 4-0 'Dog log where we select four underdogs each week as part of our Fairway Foursome and Forecast. Included in those eight ATS underdog winners are five outright victories by the 'Dogs.
It's easy to look at the top of the Associated Press (AP) and Coaches Poll and see Alabama, Clemson, Georgia, Ohio State, Oklahoma, Penn State and Auburn all in the Top-10; exactly where they were in the Preseason Polls. LSU, Notre Dame and Stanford have moved into the Top-10 after opening the season in the Top-25.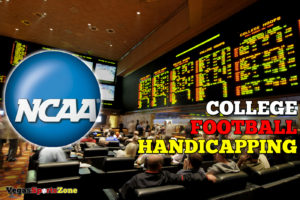 The LSU Tigers specifically is one of those surprise teams that has exceeded expectations while starting 4-0 against a quality schedule with wins as underdog away from home against ranked opponents Miami and Auburn.
But here are some risers that have moved into the rankings this week that get far less attention, along with under-the-radar teams from Group 5 conferences that have also exceeded expectations while rewarding their betting backers handsomely.
Duke (4-0) – The Blue Devils have yet to play an ACC game, but that changes this week when they host previously ranked Virginia Tech, who fell out this week following an embarrassing loss to Old Dominion last week as a 29-point road favorite. Duke has beaten both Baylor and Northwestern on the road as underdog and is 3-0 ATS vs. FBS opponents. David Cutcliff is an exceptional coach and QB guru who has guided Duke to a Bowl game in five of the past six seasons during his decade-long tenure. Duke moved into the AP Poll this week at No. 22, and while the polls provide more media coverage and discussion and are not worth much of anything when it comes to sports betting, it does provide the program with added visibility and recognition, and Duke is deserving of those accolades. Whether the Blue Devils hold up as well in conference play remains to be seen, and they are 5-point favorite this week over Virginia Tech. This line would have been near PK 'em at the start of the season, and the Hokies won last year's game over Duke 24-3 as a 17-point favorite. Still, Duke is on its way to exceeding its season win total of 6 that was posted prior to the season. ESPN's Football Power Index (FPI) projects Duke as a favorite in six of its eight remaining games.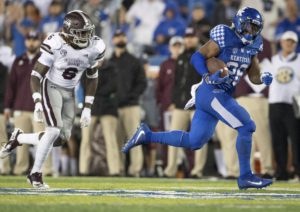 Kentucky (4-0) – What a start to the season for the Wildcats, who have clawed their way into the AP Poll at No. 17. A well-deserved honor for coach for Mark Stoops and the Kentucky 'Cats, who move into the AP poll for the first time since 2007. Kentucky has beaten both SEC foes Florida and Mississippi State as a double-digit underdog. The victory over Florida on the road in the swamp was most meaningful, as it snapped a 31-game losing streak to the Gators. Kentucky is a 1.5-point home favorite this week against South Carolina. Will the 'Cats claw the 'Cocks for the 5th straight year? Kentucky has won the last four meetings winning three times as underdog, and the last three wins were lower-scoring contests. The FPI has Kentucky favored four more times after the South Carolina game, and over the total season win bettors are loving their Kentucky bets Over 5.5 wins.
Texas Tech (3-1) – Many were writing off the Red Raiders this season, and Texas Tech was picked to finish in the bottom tier of the Big 12. Head coach for former TT quarterback Kliff Kingsbury was 30-33 entering his 6th season in Lubbock, and a 47-27 loss to Ole Miss in Week 1 left many wondering if this is the end of the line for coach K. A 77-0 win over FCS Lamar the following week didn't move the needle, but back-to-back 'Dog wins over Houston at home and 41-17 at Oklahoma State last week as a 15-point 'Dog opened eyes. Especially since the Red Raiders are starting a true freshman at quarterback. In four games and three starts, Alan Bowman has passed for 1,557 yards and 10 TDs while completing 72% of his passes. Against the toughest opponent to date, Bowman passed for 397 yards on 35-of-46 passing and 2 TDs at Oklahoma State to give the Red Raiders their first victory in Stillwater since 2001.
Buffalo (4-0) – We had the Bulls as a road favorite last week as part of a huge week in college football point spread prognosis that included our 4-0 sweep with the underdogs we provided here. Buffalo rolled over Rutgers on the road 42-13 and bettors started to take notice betting the Bulls up to a 6-point favorite. Buffalo, like many teams on this list, does not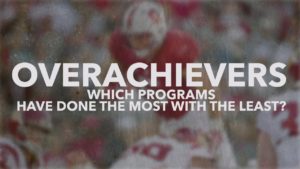 receive as much betting action each week. But the Bulls are undefeated and also 3-0 ATS vs. FBS opponents. They have not won 7-straight games dating to the end of last season when the Bulls finished 6-6. The market is catching up to Buffalo and their exceptional former D3 coach Lance Leipold. MAC affiliate Buffalo beat a Big Ten team for the first time in its history last week, and the Bulls are also going to fly over their season win total of 6.5, as FPI says Buffalo will be favored in seven of its eight remaining games.
Cincinnati (4-0) – The Bearcats have already matched their season win total of 4 victories. Pretty impressive for a team that also won just four games last season. Cincinnati is 3-1 ATS and open American Athletic Conference play this week as a 17-point road favorite at Connecticut. Had this game been played opening week, the line would have been near 7 points. That's the adjustment the linemaker and sportsbooks have to make when a team is off to a hot start and a 'bad' team like Connecticut (1-3) has allowed at least 49 points in each game and is 0-4 ATS. Nobody will be putting their money on the Huskies as a homer, despite UCONN playing with 22-21 final game revenge from last season when UCONN outplayed, outgained and held a 40-20 minute time of possession edge over the Bearcats. Seems like a letdown spot for Cincinnati, who gets props for a surprising but solid September start, but also plays one of the weakest schedules in the country.
Hawaii (4-1) – Picked to finish last in the Mountain West Conference West division, Hawaii has already surpassed its season win total (3.5). Sophomore QB Cole McDonald bust onto the scene passing for 352 yards per game to rank No. 5 nationally. He led Hawaii to an opening week win in conference play over Colorado State as a 17-point road underdog, passing for 418 yards and 3 touchdowns. Hawaii has been bet up to 12.5-point favorite at bottom-feeder San Jose State this week, so the betting market is riding a former Rainbow hoping the Warriors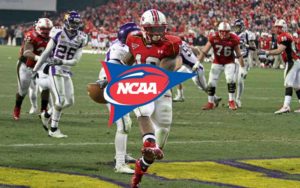 can sustain success. Home games with anticipated TD or less lines against Wyoming, Nevada, Utah State and UNLV suggests Hawaii could win many more games and have the biggest win differential vs. its season win total of any team in the country.
Syracuse (4-0) – The Orange were expected to be peeling at the bottom of the ACC Atlantic division. But Syracuse has exceeded expectations while delivering for their betting backers in a 4-0 SU/ATS start. That included a 30-7 tomahawk over Florida State as a home underdog when we peeled off our wad to cash in on Syracuse as discussed on our Week 3 Fairway Forecast and reviewed in the Week 3 upset report. Syracuse will exceed its season win total (5.5), but bettors are not buying the Orange this week when they travel to No. 3 Clemson as a 24-point underdog. Many predict a blowout in Death Valley for the Tigers in revenge mode, as Syracuse stunned Clemson last year 27-24 as a same 24-point underdog; the Tigers only regular season loss. You're paying a premium to bet on the high-ranked hottie in redemption, and we'll be back on Syracuse again this week looking to peel off more from the Orange.
Here are other teams that many bettors don't fire on, as they are off losing seasons and were all projected to finish at or near the bottom of their conferences. Yet note the early season September success for these teams both straight up (SU) and against the spread (ATS).
Virginia (3-1 SU, 4-0 ATS) – Season win total: 5. The Cavaliers are 4-0 ATS and have been favored three times including in last week's 27-3 win over Louisville when the Cavs out-rushed the Cardinals 204-66 in a steamroller win.
Kansas (2-2 SU, 2-2 ATS) – Season win total: 3. Jayhawks get mention here after snapping the second-longest road losing streak in college football history at 46 games with their win at Central Michigan, 31-7. Kansas comes right back with a blowout win over Rutgers 55-14 before returning to their losing ways in Big 12 opener last week at Baylor, 26-7.
BYU (3-1 SU, 3-1 ATS) – BYU is an independent and won four games last year. But the Cougars pulled off the shocking upset of No. 6 Wisconsin in Madison, 24-21 as a 23.5-point underdog. BYU will eclipse its season win total of 5.5 with remaining home games Utah State, Hawaii, No. Illinois and Hawaii and a road game at UMASS. A big 'Dog role again this week as +17.5 at No. 11 Washington.
Utah State (3-1 SU, 4-0 ATS) – The Aggies are an annual under-the-radar team but they opened some eyes opening week with a near upset at Michigan State as a 24-point underdog. The high-powered Aggies offense has led them to a 4-0 ATS start and now have a bye week before tackling their big in-state rival BYU in Provo Oct. 5. Utah State was 6-7 last year but beat BYU 40-24 as a slight 'Dog, and the Aggies have gone to a bowl game five of the last six seasons and looks like a solid Mountain West entrant this season on their way to more than 7.5 season wins.
Coastal Carolina (3-1) – Picked to finish last in the Sun Belt after going 1-11 last season, Coastal Carolina is 3-0 SU/ATS following an opening week loss at South Carolina, 49-15. The Chanticleers won its Sun Belt opener last week at Louisiana Lafayette 30-28 as a 3-point puppy. Just one more win needed to eclipse its season win total of 3.5 victories.
California (3-0) and Colorado (3-0) are both undefeated after 5-7 season's last year, and each opens PAC-12 play at home this week. Sustained success not likely, but each has a shot to exceed its season win total of 5.5 and 4 wins respectively. Colorado is 2-0 ATS vs FBS foes and is laying 10 at home this week vs UCLA in another line that is up nearly a TD from opening week. Cal is a 3-point home 'Dog to deflated and dejected Oregon.
Others:
West Virginia (3-0) – Not a surprising start but a solid one considering West Virginia is up to No. 12 in the AP Poll after opening the season at No. 17. The Mountaineers have three blowout wins in its 3-0 SU/ATS start including over Tennessee and Kansas State. West Virginia has its toughest test this week as 3.5-point road favorite at Texas Tech.
North Texas (4-0) – The Mean Green is cashing in 3-0 ATS vs FBS foes including the blowout win at Arkansas as a 6-point puppy that made our weekly underdog report as part of Fairway's Forecast and Foursome. North Texas has its conference opener and biggest Conference USA game of the season this week against West division co-favorite Louisiana Tech, and the Mean Green are laying 7.5 points at home.
Notre Dame (4-0) – The Irish have gone about their business in an undefeated start while going 2-2 ATS. The big opening week win over Michigan set up a huge letdown spot the following week and Notre Dame escaped as a 34-point favorite over Ball State 24-16. This week No. 8 Notre Dame is a 5-point home favorite over No. 7 Stanford (4-0), who pulled out the miracle win last week at Oregon. Notre Dame's toughest remaining game after Stanford is at Virginia Tech next week and its last game at USC. Home wins over Florida State and Syracuse will still be needed to exceed 9.5 season wins.
Teams that are undefeated Against the Spread (ATS): Syracuse, Virginia, West Virginia, Florida International, Utah State, Washington State, Appalachian State, Georgia Southern.
Article posted at osga.com.
FairwayJay is a leading national sports analyst and is recognized as one of the sports industry's most insightful handicappers and professionals. Follow him on Twitter: @FairwayJay