College Football Handicapping – Late Season Bye Weeks
Evaluating Teams And Late Season Bye Weeks
Here is the list of college football teams with late October and November bye weeks along with their opponents before and after the bye week.  In college football, this is a real benefit to the rested and prepared team and especially later in the season. When playing at home it becomes an even greater advantage.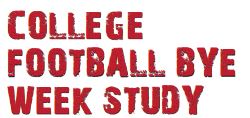 In past seasons I've used a base situation favoring the home team off a bye with better than 65% success Against-the-Spread (ATS). In conference action, this becomes even stronger and especially in week 8 or later of the season. If the home team is coming off a win and/or playing with revenge from last season, the sub-set situation provides even greater strength for the home team to deliver the 'green'.
So review the bye week schedules and the post-bye situational system that is usually quite strong. Note some opponents have similar bye weeks.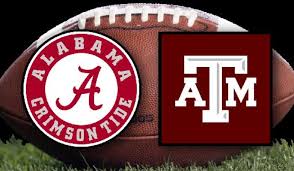 This is another piece to add to your handicapping arsenal, but know that you still must evaluate the motivation, match-ups, injuries, statistical profiles and betting lines before you blindly bet on these rested and ready teams off a bye. The linemaker has made more adjustments in recent seasons to the bye week situation, but there is still good opportunities available when you factor in all the information above.
If you don't have the time, energy or ability to consistently produce point spread winners, then let my extensive research, ability and proven profit-producing experience be your reward and become a member for the rest of the college football season and through the college bowls.
Teams playing Saturday, Oct. 22 off a bye include: (* playing at home)
Auburn*, Boston College*, Cincinnati*, Kentucky*, Michigan*, North Texas, Oklahoma State, Old Dominion, Penn State*, SMU*, South Carolina*, TCU, Texas A&M, UTEP, Utah State*, Washington*, Wyoming
Top teams and match-ups with bye situations: #6 Texas A&M at #1 Alabama, #2 Ohio State at Penn State, Illinois at #3 Michigan, Oregon State at #5 Washington
| | | | | |
| --- | --- | --- | --- | --- |
| Bye | Team | Conference | Pre Bye | Post Bye |
| Oct. 22 | Florida | SEC | Missouri | Georgia (neutral) |
| | Georgia | SEC | Vanderbilt | Florida (neutral) |
| | Tennessee | SEC | Alabama | at South Carolina |
| | Arizona | Pac-12 | USC | Stanford |
| | USC | Pac-12 | at Arizona | California |
| | Baylor | Big 12 | Kansas | at Texas |
| | Iowa State | Big 12 | at Texas | Kansas State |
| | Clemson | ACC | NC State | at Florida State |
| | Duke | ACC | at Louisville | at Georgia Tech |
| | Florida State | ACC | Wake Forest | Clemson |
| | Georgia Tech | ACC | Georgia Southern | Duke |
| | Pittsburgh | ACC | at Virginia | Virginia Tech |
| | Wake Forest | ACC | at Florida State | Army |
| | Notre Dame | Independent | Stanford | Miami, FL |
| | Florida Atlantic | Conference USA | at Marshall | Western Kentucky |
| | Southern Miss | Conference USA | at LSU | Marshall |
| | Arkansas State | Sun Belt | South Alabama | Louisiana Monroe |
| Oct. 29 | Alabama | SEC | Texas A&M | at LSU |
| | Arkansas | SEC | at Auburn | Florida |
| | LSU | SEC | Ole Miss | Alabama |
| | Vanderbilt | SEC | Tennessee | at Auburn |
| | Iowa | Big Ten | Wisconsin | at Penn State |
| | Rutgers | Big Ten | at Minnesota | Indiana |
| | Colorado | Pac-12 | at Stanford | UCLA |
| | UCLA | Pac-12 | Utah | at Colorado |
| | North Carolina | ACC | at Virginia | Georgia Tech |
| | Syracuse | ACC | at Boston College | at Clemson |
| | BYU | Independent | at Boise State | at Cincinnati |
| | Colorado State | Mountain West | at UNLV | Fresno State |
| | Nevada | Mountain West | Wyoming | at New Mexico |
| | No. Illinois | MAC | Buffalo | Bowling Green |
| | Charolotte | Conference USA | at Marshall | at Southern Miss |
| | Idaho | Sun Belt | at Appalachian State | at UL Lafayette |
| | UL Lafayette | Sun Belt | at Texas State | Idaho |
| | Texas State | Sun Belt | UL Lafayette | at Appalachian St |
| | Troy | Sun Belt | at South Alabama | Massachusetts |
| Nov. 5 | Arizona State | Pac-12 | at Oregon | Utah |
| | Utah | Pac-12 | Washington | at Arizona State |
| | Houston | AAC | UCF | Tulane |
| | Central Florida | AAC | at Houston | Cincinnati |
| | South Florida | AAC | Navy | at Memphis |
| | Tulane | AAC | SMU | at Houston |
| | UNLV | Mountain West | at San Jose State | Wyoming |
| | New Mexico State | Sun Belt | at Texas A&M | at Arkansas State |
| Nov. 12 | Kansas State | Big 12 | Oklahoma State | at Baylor |
| | TCU | Big 12 | at Baylor | Oklahoma State |
| | Massachusetts | Independent | at Troy | at BYU |
| | Connecticut | AAC | Temple | at Boston College |
| | Temple | AAC | at Connecticut | at Tulane |
| | Fresno State | Mountain West | at Colorado State | Hawaii |
| | San Jose State | Mountain West | at Boise State | Air Force |
| | Ball State | MAC | Eastern Michigan | at Toledo |
| | Ohio | MAC | Buffalo | at Central Michigan |
| | Eastern Michigan | MAC | at Ball State | No. Illinois |
| | Western Michigan | MAC | at Kent State | Buffalo |
| | Florida Int'l | Conference USA | at Western Kentucky | Marshall |
| | South Alabama | Sun Belt | at Louisiana Monroe | at LSU |
| Nov. 19 | Navy | AAC | Tulsa | at SMU |
| | East Carolina | AAC | SMU | at Temple |
| | Akron | MAC | Bowling Green | at Ohio |
| | Bowling Green | MAC | Kent State | Buffalo |
| | Kent State | MAC | at Bowling Green | No. Illinois |
| | Louisiana Tech | Conference USA | UT San Antonio | at Southern Miss |
| | Western Kentucky | Conference USA | North Texas | at Marshall |
| Nov. 26 | Oklahoma | Big 12 | at West Virginia | Oklahoma State |
| | Oklahoma State | Big 12 | at TCU | Oklahoma |
| | Geogia State | Sun Belt | Georgia Southern | at Idaho |
| | Louisiana Monroe | Sun Belt | at Appalachian State | UL Lafayette |
FairwayJay is a leading national sports analyst and is recognized as one of the sports industry's most insightful handicappers and professionals. Follow him on Twitter: @FairwayJay