College Football Early Season Bye Weeks
Evaluating Teams with Early-Season September Bye Weeks
Two weeks into the college football season and we've witnessed the usual suspects, upsets and adjustments in price by the linesmaker. As we adjust our power ratings on teams and continue to evaluate the players' performance on the playing field and the supporting statistics, it's important to not only understand motivation and potential letdown situations for players and teams, but also how scheduling plays a part in the process.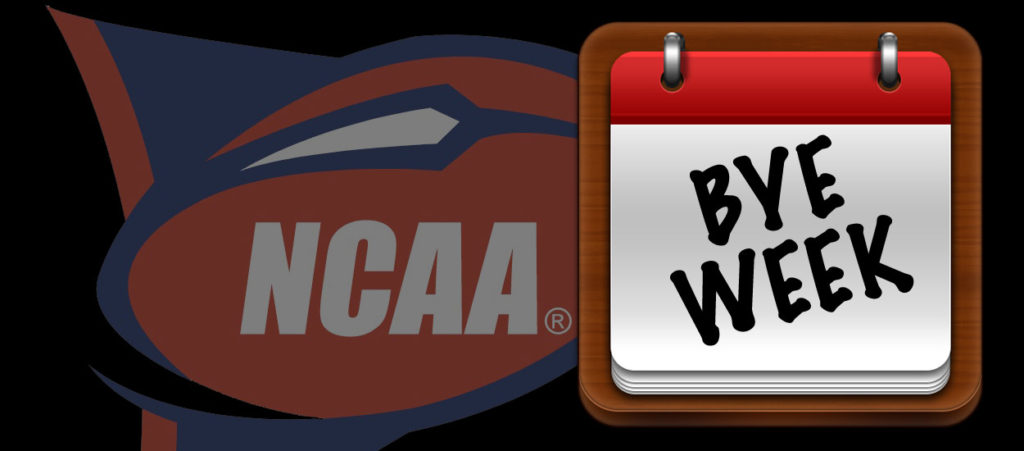 I have outlined the college football September bye week schedule along with each team's pre and post-bye opponents. In college football, this can be a real benefit to the rested and prepared team, especially later in the season. When playing at home off a bye, there is a solid situational edge when playing an opponent that is not off a bye, and usually a motivational edge especially if a quality or capable team is off a loss.
Plenty of situations and profiles to consider as you evaluate these bye teams, and we'll review more as the season moves along. But recognize scheduling situations and take note of teams off a bye, and those playing at home that may also have additional motivation that includes significant redemption.
This is another piece to add to your handicapping arsenal, but know that you still must evaluate the match-ups, motivation, injuries, statistical profiles and betting lines at the sportsbooks. The linemaker makes adjustments to early season results, power ratings and to the bye week situation, and especially to rested and ready teams playing with redemption.
| | | | | | |
| --- | --- | --- | --- | --- | --- |
| Bye | Team | Conference | Pre Bye | Post Bye | Notes |
| 15-Sep | Michigan State | Big Ten | at Arizona State | at Indiana | MSU beat Indiana 17-9 LY |
| 15-Sep | Air Force | Mountain West | at Florida Atlantic | at Utah State | Beat Utah State 38-35 LY |
| 15-Sep | Louisiana Tech | Conference USA | Southern | at LSU | LT is 2-10 in non-conf road since 2013 |
| 15-Sep | Rice | Conference USA | at Hawaii | at Southern Miss | Lost to So. Miss 43-23 LY |
| 22-Sep | Northwestern | Big Ten | Akron | Michigan | Last played Michigan in 2015 |
| 22-Sep | California | Pac 12 | Idahom State | Oregon | Pac 12 opener, lost to OU 45-24 LY |
| 22-Sep | Utah | Pac 12 | Washington | at Washington State | Lost to WSU 33-25 LY |
| 22-Sep | Colorado | Pac 12 | New Hampshire | UCLA (Fri) | UCLA has lost 10 straight Pac 12 road games |
| 22-Sep | UCLA | PAc12 | Fresno State | at Colorado (Fri) | Beat UCLA 27-23 LY |
| 22-Sep | Boist State | Mountain West | at Oklahoma State | at Wyoming | Beat WYO 24-14 LY |
| 22-Sep | Wyoming | Mountain West | Wolford | Boise State | WYO trails series 11-1 (won as DD Dog 2016) |
| 22-Sep | New Mexico | Mountain West | at New Mexico State | Liberty | First meeting vs Liberty |
| 22-Sep | Fresno State | Mountain West | at UCLA | Toledo | Lost 52-17 at Toledo in 2016 |
| 22-Sep | San Jose State | Mountain West | at Oregon | Hawaii | Lost 37-26 to Hawaii LY |
| 22-Sep | UAB | Conference USA | Tulane | Charlotte | Lost 25-24 in OT to Charlotte LY as fav |
| 29-Sep | Missouri | SEC | Georgia | at South Caroina | Lost to SC as favorite LY |
| 29-Sep | Maryland | Big Ten | Minnesota | at Michigan | Lost to Michigan 35-10 LY |
| 29-Sep | Wisconsin | Big Ten | at Iowa | Nebraska | Beat Nebraska 38-17 LY |
| 29-Sep | Iowa | Big Ten | Wisconsin | at Minnesota | beat MN 17-10 LY |
| 29-Sep | Minnesota | Big Ten | at Maryland | Iowa | Floyd of Rosedale (pig) trophy |
| 29-Sep | Illinois | Big Ten | Penn State | at Rutgers | Lost to Rutgers as favorite LY |
| 29-Sep | New Mexico State | Independent | at UTEP | Liberty | First meeting vs Liberty |
| 29-Sep | South Florida (USF) | American | East Carolina | at Massachusetts | First meeting vs Massachusetts |
| 29-Sep | Navy | American | at SMU | at Air Force | Beat Air Force 48-45 LY |
| 29-Sep | Houston | American | Texas Southern | Tulsa (Thur) | Lost to Tulsa 45-17 LY as 13′ pt fav |
| 29-Sep | Tulsa | American | at Temple | at Houston (Thur) | Tulsa won 2 games LY include vs Houston |
| 29-Sep | Utah State | Mountain West | Air Force | at BYU (Fri) | Beat BYU 40-24 LY as slight 'Dog |
| 29-Sep | Colorado State | Mountain West | Illinois State | at San Jose State | Beat SJS 42-14 LY |
| 29-Sep | San Diego State | Mountain West | Eastern Michigan | at Boise State | Lost to Boise 31-14 LY |
| 29-Sep | UNLV | Mountain West | at Arkansas State | New Mexico | Beat NM 38-35 LY as 'Dog |
| 29-Sep | MTSU | Conference USA | at Georgia | Florida Atlantic | Lost to FAU 38-20 LY |
| 29-Sep | Georgia Southern | Sun Belt | at Clemson | Arkansas State | Lost to Ark State 43-25 LY |
| 29-Sep | Texas State | Sun Belt | at UTSA | Louisiana | Lost to UL 24-7 LY |
FairwayJay is a leading national sports analyst and is recognized as one of the sports industry's most insightful handicappers and professionals. Follow him on Twitter: @FairwayJay