College Football Defensive Dominators
Stat Profiles of Top Teams and Defensive Dominators
Last week we took a deep dive into the stats for offensive production and identified the college football teams with the most balanced offenses that are powerful and productive. Now we turn to the defensive side of the ball and isolating college football's defensive dominators. Using these statistical indicators and profiles will assist us in our college football handicapping and weekly pursuit of profit.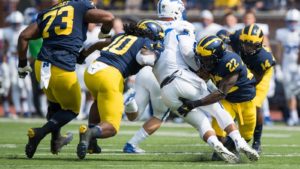 While many bettors love to bet on high-octane offensive teams, it's the defensive dominators that are often your best bets. Those strong defensive teams that may lack some offensive firepower stay under the radar and undervalued more that the high-profile and high scoring offensive teams. The bookmakers and sports books know that and also adjust to those tendencies and public perceptions. That includes when posting totals, as more bettors play overs than unders.
By using these stats and updating them weekly, you can be better prepared and isolate more match-ups of interest and point spread winners. Especially for strong defensive teams in underdog roles. As teams push towards the finish of the college football season, use these stats and watch the weather as the defensive dominators are teams you can often count on in tougher match-ups.
With a number of conference games played, we can more realistically analyze the proven teams and performers as the statistical profiles become more clear. But note the match-ups each week as teams face more opponents operating out of spread formations and utilizing more up-tempo or no-huddle attacks. Note team's strength of schedule and hidden or meaningful match-up stats in box scores.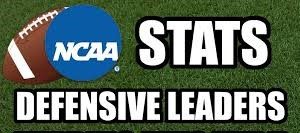 As team scoring averages near 30 points per game and offenses continue to be creative and utilize rule changes to their advantage, it becomes even more important for defenses and defensive coordinators to make plays and plans to slow the offenses.
So each season we adjust our numbers and profiles based on specific parameters with scoring and yardage increases, and we sort through the more meaningful stats and understand the strengths and weaknesses of teams and opponents. That's important to note as some teams that just missed being on the list have played stronger schedules and opponents overall than some teams on the list.
Use this as a guide as you evaluate this year's list of defensive dominators through October 20, who must meet the following criteria:
Allow 360 or less yards per game (YPG)
Allow 150 or less rushing YPG
Allow 22 or less points per game (PPG)
Allow 5.0 or less yards per play (YPPL)
PPG – Points-Per-Game     YPG – Yards-Per-Game
YPPL – Yards-Per-Play –    YPR – Yards-Per-Rush
In addition, I'm throwing out stats against FCS opponents, so the stats represent a more level playing field against more quality competition.
Teams that just missed being on the current list of defensive dominators but worth watching and updating each week include: Auburn, Boise State, Buffalo, Florida State, Maryland, No. Illinois, So. Miss, Texas, Virginia, Washington State
| | | | | | |
| --- | --- | --- | --- | --- | --- |
| Team | PPG | YPG | YPPL | Rush YPG | YPR |
| Fresno State | 12.5 | 297 | 4.2 | 129 | 3.5 |
| Kentucky | 13.3 | 303 | 4.4 | 111 | 3.2 |
| Iowa | 14.2 | 263 | 4.2 | 92 | 3.0 |
| Michigan | 14.4 | 220 | 3.5 | 97 | 2.9 |
| Clemson | 14.5 | 283 | 4.1 | 106 | 2.7 |
| Mississippi State | 14.8 | 287 | 4.4 | 121 | 3.5 |
| Alabama | 15.9 | 309 | 4.5 | 115 | 3.6 |
| Cincinnati | 16.5 | 293 | 4.2 | 121 | 3.8 |
| LSU | 17.3 | 341 | 4.9 | 140 | 4.1 |
| Appalachian State | 17.4 | 322 | 4.3 | 128 | 3.2 |
| Washington | 17.4 | 315 | 4.6 | 130 | 3.6 |
| UAB | 17.7 | 321 | 4.8 | 134 | 3.7 |
| Florida | 18.3 | 341 | 4.8 | 150 | 4.1 |
| Notre Dame | 18.7 | 341 | 4.4 | 126 | 3.5 |
| Utah | 19.0 | 326 | 4.6 | 81 | 2.7 |
| Georgia | 19.0 | 337 | 4.9 | 144 | 4.3 |
| San Diego State | 19.2 | 319 | 4.5 | 89 | 2.5 |
| Iowa State` | 19.3 | 317 | 4.7 | 110 | 3.0 |
| North Texas | 19.4 | 354 | 4.9 | 105 | 3.2 |
| Miami, FL | 21.2 | 263 | 4.0 | 118 | 3.4 |
| Michigan State | 22.0 | 355 | 4.9 | 80 | 2.6 |
FairwayJay is a leading national sports analyst and is recognized as one of the sports industry's most insightful handicappers and professionals. Follow him on Twitter: @FairwayJay