College Basketball: Maryland At Michigan State First Place Showdown
Maryland at Michigan State Key Big Ten Battle
The two leading teams in the Big Ten are showcased on Big Monday when No. 19 Maryland (16-3) travels to East Lansing and the Breslin Center to battle No. 6 Michigan State (16-2). Tipoff is at 6:30 ET and Fox Sports 1 carries the TV coverage. The Spartans have won 11-straight games and are undefeated at home at 9-0. Michigan State is also riding a remarkable 19-game Big Ten winning streak dating to last season. Maryland has won 7-straight games including three straight Big Ten road games. Both teams will move up in the AP poll prior to tipoff with new rankings released Monday.
What's at Stake?
First place in the Big Ten is on the line as Michigan State is 7-0 while Maryland enters 7-1. With Michigan (17-1/6-1) losing their first game of the season Saturday at Wisconsin, the winner of this Monday night marquee match-up will be leading the Big Ten.
The Line and ATS Results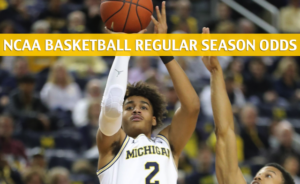 Michigan State opened a 9.5-point favorite and the total is down to 147.5 at the leading online sportsbooks, and bettors are currently riding the Spartans to 7-straight ATS wins during their 11-game winning streak. Michigan State is 14-4 ATS this season and the Spartans have beaten Big Ten contenders Purdue and Iowa at home by 18 and 28 points respectively. Michigan State was a 7-point favorite over Purdue on Jan. 8 and suffocated the Boilermakers holding Purdue to just 31% FG shooting in a 77-59 win. Michigan State also swept Maryland last season winning both regular season games including 91-61 at home. Maryland is 10-8-1 ATS this season and the Terrapin's only road loss was 62-60 in December at Purdue as a 8.5-point underdog.
The Match-up and Stats
Michigan State and Maryland rank No. 2 and No. 3 in the country in rebounding margin, out-rebounding opponents by 11.6 and 11.1 per game. In conference play, those numbers are +10.7 and +9.3 respectively. The tale of the tape in conference stats is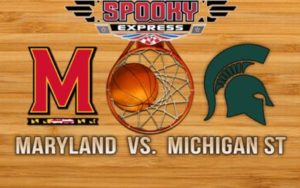 below, and Michigan State's dominance in conference play really shows with a scoring margin of 15.3 points per game. A key match-up is on the perimeter, where Maryland leads the Big Ten in 3-point shooting at 41.8% while Michigan State allows a league-low 24.3% from beyond the arc. Both teams are near the bottom of the league in steals, and surprisingly, Michigan State and Maryland are last in the Big Ten in turnover margin at -3.6 and -3.9 respectively.  Michigan State is tied for the league lead in assist/turnover margin thanks to 19 assists per game.
Kenpom – Michigan State ranks No. 5 in the country in adjusted offensive efficiency and No. 8 in adjusted defensive efficiency. The Spartans rank top-5 in the country in effective FG% offense and defense. Maryland ranks No. 12 and No. 40 respectively. The Spartans play at a faster pace on offense while Maryland plays at a slower pace.
| | | | | | | | | | |
| --- | --- | --- | --- | --- | --- | --- | --- | --- | --- |
| | Pts Off | Pts Def | Scoring Margin | FG% Off | FG% Def | 3 pt Off | 3 pt Def | FT | Assist |
| Maryland | 72.0 | 64.9 | 7.1 | 45.5 | 41.3 | 41.8 | 33.0 | 79.6 | 11.5 |
| Michigan St | 79.0 | 63.7 | 15.3 | 49.7 | 35.4 | 33.6 | 24.3 | 77.0 | 19.0 |
Key Players
Maryland
PG Anthony Cowan, 19.9 PPG
F Bruno Fernando 13.4 PPG, 11.9 RPG
F Jalen Smith, 12.3 PPG, 7.3 RPG
G Eric Ayala 48% 3-pt
G Eric Wiggins 46.2% 3-pt
Michigan State
PG Cassius Winston 18.7 PPG, 7.5 APG. 45.2% 3-pt
F Nick Ward, 19.1 PPG. 62.8% FG, 8.4 RPG, top-4 blocks
F Kenny Goins 10.7 RPG
F Xavier Tillman 62% FG
Cowan is also one of the league's best defenders for Maryland, and the point guard battle is key as Michigan State's Winston comes off a career-high 29 point performance against Nebraska. But the talent and power inside for these two teams with outstanding rebounding will be on display. Jalen Smith is Maryland's 6-10 freshman McDonald's All-American who can stretch defenses from the perimeter and continue to improve along with big body sophomore interior force Fernando Bruno.
Coaching – Injuries – Suspensions
Both teams have excellent head coaches in Tom Izzo and Mark Turgeon, who lead a collection of outstanding coaches at the top of the league. Michigan State guard Joshua Langford has missed the last five games with a foot injury and remains sidelined. Spartans reserve guard Kyle Ahrens (20 min/game) has missed the last three games with a back injury.
The Picks and Bets
Tough to go against Michigan State with such strength, balance, and scoring dominance over league opponents. Along with a strong home court, they hold enough edges to be worthy of favoritism even at a now bigger price. The lines continue to inch up as the Spartans winning streak continues, but Michigan State continues to cover point spreads. However, the Spartans now have their toughest test against a very well coached Maryland team that is 3-1 ATS as underdog this year. A 5-point home loss to Virginia 76-71 shows Maryland can still score against an elite defense, even with key player foul troubles. A pair of future pros in the front court makes Maryland a threat and one to support at big 'Dog prices. If you bet it, swing a 7-iron with Maryland.
Monday College Basketball Picks – Maryland ATS
Article posted at osga.com.
FairwayJay is a leading national sports analyst and is recognized as one of the sports industry's most insightful handicappers and professionals. Follow him on Twitter: @FairwayJay