College Basketball Handicapping – Analysis of Winning Wagers
College Basketball Stats, Situations and Analysis of Winning Wagers
This past Saturday was one to forget on the hardwood as our two top play underdogs coughed up the bit including Butler, who shot just 30% FG in defeat against defenseless Creighton. But like shooting 78 on the golf course, you get back on the tee the next day and stay committed to your work and beliefs.
We bounced back with some birdies on Sunday going 3-0 on a three dog night that included a Top Play on Providence (+12.5). The Friars ate the whole pie in their 82-76 OT road win at No. 4 Villanova to snap the Wildcats 22-game Big East winning streak. Virginia Tech and Syracuse opinion completed our big dog trifecta, and we came back with one college hoops play on Monday and Miami rolled over Duke for a winner.
On Tuesday we delivered another Top Play winner to members on Xavier, and the 7th-ranked Musketeers improved to 18-2 with a 75-68 win at Providence – as we went against the same Fiars team that made us Money on Sunday.
Check out the analysis provided to members on those two Top Play winners below. Should you determine you would like to get on my bag and take advantage of many of the solid situations ahead, then join me and I'll do my best to continue to make the big shots and isolate solid situations and statistical profiles that translate to proven profit and success on the college court.
Join me for more victories and value over the final 4-5 weeks of the college basketball regular season as teams push for conference titles before March Madness and all the upcoming tournament action begins.
Providence (+12.5) at Villanova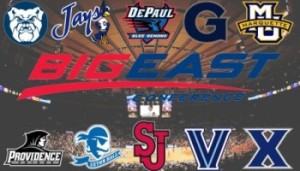 A must take big 'Dog as Providence is 16-3 and 4-2 in Big East play with coach Cooley in his best role during his long career going betting than 67% ATS on the conference road. That includes 4-0 SU/ATS this season and the Friars have the league's No. 2 scoring defense (66 PPG) just behind Villanova. Both are top-20 in adjusted efficiency defense and allow 40% shooting in Big East play. The problem for Providence has been shooting as they are hitting just 38% in Conference play including a dreadful 28% from the arc while Villanova is on top at 48% FG but also not too strong from the three point line. The Wildcats are actually last in the league in steals and rebounding is near even with Providence slightly better in turnover ratio.
Villanova is 17-2 SU including 7-0 in the Big East and 10-0 at home. They have a 2-game lead in the Big East, and slipped by Seton Hall Wednesday 72-71 making them 3-0 SU but 0-3 ATS on the current run with inflated lines. This is another one against a capable 'Dog, and Providence enters with a little extra rest and prep playing with triple revenge from last year and we expect their best against the Wildcats
Xavier (-1.5) at Providence
We cashed a Top Play winner with Providence as big double-digit road 'Dog Saturday at Big East leading Villanova, and the Friars ate the whole pie in a 82-76 OT win. No time to celebrate as Providence is now in a 4-way tie for second place at 5-2 with Xavier, setting up this key Big East battle. The Providence upset win also sets up a negative situation for the home team and a little extra value for Xavier, who is the stronger team and should prove it as a road warrior Tuesday night.
The Musketeers are strong again this season following their Sweet Sixteen appearance last season. Early season wins over Michigan, Alabama, USC, Dayton and Cincinnati set the stage for another solid Big East and tournament season ahead. After getting blown out at Villanova New Year's Eve, Xavier has responded with 5 of 6 wins and move up to a lofty No. 7 in the national ranking. The personnel and profile is supported by solid play and stats. Xavier is also 7-1 SU and 6-2 ATS in road or neutral sites with all wins by at least 8 points.
Providence has two of the three top scorers in the Big East in Bentil and Dunn, but the Friars are shooting just 39% in league play. Both teams hold opponents to 42% FG with the Friars very strong with their perimeter defense. But Xavier has out-rebounded all but one opponent this season with a near double-digit rebounding margin. Senior Farr dominated last game with 24 points and 15 rebounds and lanky guard Bluiett is a big time player with a solid supporting and together core. A strong assist-to-turnover margin suggests more success for Xavier, who leads the Big East in scoring at 77 points per game in league play. Superb free throw shooting could seal the deal for Xavier, and we'll man up on the Musketeers with Providence in a strong negative ATS situation off their big 'Dog road win. Take Xavier to deliver our Top Play winner as the stronger team in a win situation at a near pick 'me price.
FairwayJay is a leading national sports analyst and is recognized as one of the sports industry's most insightful handicappers and professionals. Follow him on Twitter: @FairwayJay