Top Contenders Odds to Win at Carnoustie and Open Championship
Carnoustie a Best Course – Open Prep Events Including Scottish Open
Carnoustie Golf Links ranks among the best courses in Scotland, and as I mentioned in my Open prep Countdown to Carnoustie, the championship course is regarded by most as the toughest test. Weather plays a pivotal role at the Open, but if it remains modest in both rain and wind, Carnoustie will be a hard but fair test. The fairways are more flat than other links courses, so uneven lies are not as common. This link will give you a brief introduction to Carnoustie. Still, Links golf is an acquired skill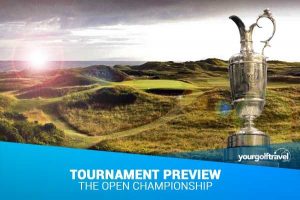 if you did not grow up playing it. Just ask Phil Mickelson, who took many years of learning the nuances and adjusting his ball flight and game before becoming an Open Champion in 2013 at Muirfield. Today's top talented players and highly-ranked pros like Justin Thomas are still learning their way. Thomas tied for 53rd in his debut in 2016 and a missed cut last year. It takes time and often a week or two for players less accustomed to playing links courses to acclimate themselves to this type of course and conditions. Players have to understand and get a feel for the different bounces and how much the ball releases or doesn't release. Chipping is unique with more chip and runs, and wedge play and distance is varied with the different turf and humps and bumps encountered.
That's why many of the touring pros are playing the Scottish Open at Gullane Golf Club this week on the European Tour. Gullane is less than 100 miles from Carnoustie on Scotland's winding North Sea coast. European players still have an advantage at Carnoustie, as it is one of the host courses for the annual Dunhill Links competition.

Six of the last eight Open Championship winners have played in the Scottish Open the week before, but Gullane has not hosted the event since 2015 as it has been on a rotating course schedule since 2011. Still, the Scottish Open is a good barometer and form guide to evaluate players as they move to the Open Championship the following week. The last five winners of the Scottish Open are all strong and proven players, Rafa Cabrera Bello, Alexander Noren, Rickie Fowler, Justin Rose and Phil Mickelson. So keep an eye on players form and play this week, but also recognize that the runway to the British Open is different for every golfer. The way the European Tour is set up now, there are three strong events leading into the Open with the luster of the Rolex Series playing in France, Ireland and then Scotland leading up to the Open Championship.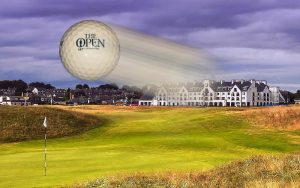 Russell Knox and Jon Rahm both had top-5 finishes in this year's Open de France, won by Alex Noren, and in the Irish Open won by Knox. These guys are contenders at Carnoustie and on our radar along with Justin Rose, a consistent and proven pro who has the game and experience on links courses. Tommy Fleetwood is one to watch as an outstanding ball striker, and while he did struggle under immense pressure as the local favorite at last year's Open at Royal Birkdale, he's resting this week following a virus he picked up two weeks ago in France and should perform well with his strong stat profile on the European Tour and recent strong finish at the U.S. Open.
Dustin Johnson is the No. 1 ranked player in the world, and while he has not yet won an Open title, he's a natural at adapting to a golf course and his strength and length will be a positive attribute at Carnoustie. Johnson missed the cut in his Open debut in 2009 at Turnberry, then finished 14th, 2nd and 9th the next three years. He has another T9 in 2016 as his best finish in the Open since then. Henrik Stenson, another strong ball striker and player on our radar that won the 2016 Open at Troon, withdrew from this week's Scottish Open as he's struggling with an elbow injury and has not competed since this T6 finish at the U.S. Open. Tough to support an injured player not coming in with his best game playing in the Open at its toughest venue.
The leading online sports books will have tournament match-ups, props and Odds to win the 2018 Open Championship at Carnoustie. Here are current odds from BookMaker sports book.
12-1: D. Johnson, J. Spieth, R. McIlroy
15 to 20-1: J. Rose, T. Fleetwood, J. Thomas, B. Koepka, R. Fowler
21 to 30-1: J. Rahm, T. Woods, J. Day, S. Garcia, P. Casey, H. Stenson
31 to 45-1: A. Noren, H. Matsuyama, P. Reed, F. Molinari, M. Leishman, B. Grace, T. Hatton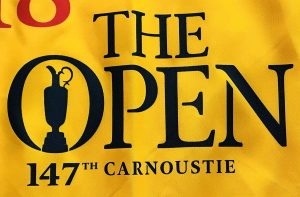 Plenty of solid players and long shots greater than 50-1 that can win too, and we'll evaluate more with a focus on tournament match-ups knowing the level of competition on the PGA Tour and European Tour is extremely tight and tough. It's very difficult to predict who will win or even play well any particular week, as we see top-ranked players miss cuts or struggle even at major events like the U.S. Open, where in 2018 at Shinnecock McIlroy, Spieth, Garcia, Rahm, Watson, Day and Woods all missed the cut.
Here is a hole-by-hole look at Carnoustie and the challenges the player will face. Notice the tougher back 9, where holes 18, 12, 10 and 15 ranked as the four most difficult during the 2007 Open and the long 248 yard par 3 at 16, called Barry Burn, ranks No. 6.
Both Woods and Mickelson continue to take betting action at the sports books despite each player being on the back 9 of their careers and neither winning a major since 2008 and 2013 respectively. But the two golf legends are targeting a big-money 'all-in' showcase later this year, as Woods and Mickelson are planning a $10 Million Winner-Take-All Match-Play Event, potentially at the lush Las Vegas Shadow Creek Golf Course.
In PGA tournaments and major events, we also like to find players to fade that we feel will struggle, as a missed cut is the best kind of match-up winner. More tournament match-ups and props are usually offered at the leading online sports books, so that opens up the opportunity to fine more players offered in match-ups and weakness by the bookmaker. We'll continue to evaluate the players and profiles, along with stats, form and course setup and information to come up with more tournament match-up winners and props of interest. Perhaps even an Open Champion winner at Carnoustie will be in our bag next week following some solid swings and strong major performances at the Masters and U.S. Open.
Carnoustie is next, and we'll battle through the elements, humps and bumps to shoot for more pars and birdies at the 147th Open Championship. You can bet on it.
Article posted at osga.com.
FairwayJay is a leading national sports analyst and is recognized as one of the sports industry's most insightful handicappers and professionals. Follow him on Twitter: @FairwayJay