Big 12 – SEC Challenge: TCU at Vanderbilt
TCU Horned Frogs Underrated in Rugged Big 12
One of the unique days in college basketball takes place Saturday, but it's not for the good of the student athletes. Two power conferences have decided to schedule games between them during the prime time conference season. The #big12sec challenge is in its 5th year, and the NCAA loves to promote and market its product even at the expense of their 'student-athletes'. Instead of a day off during another part of the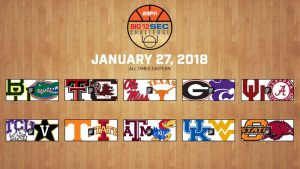 conference schedule, it's more travel and another tough game between two conferences that have as many as eight teams each pushing for the NCAA tournament.
One of those match-ups is between TCU and Vanderbilt in the Big 12-SEC Challenge. The leading sportsbooks show the following line.
TCU  -3.5
Vanderbilt +3.5
Total 149.5
ESPN2 at 4:00 ET
The TCU Horned Frogs (15-5) have become relevant again under former Pitt Panthers coach and TCU alumni Jamie Dixon. The Frogs have a top-20 RPI but have suffered some excruciated losses in Big 12 play where they stand 3-5 after beating recently No. 2-ranked West Virginia 82-73 this week. Vanderbilt (7-13) is struggling badly, in last place in the SEC and the only SEC team with a losing record overall. All seven wins have come at home for the Commodores, but they will face a solid and very motivated TCU team that has scored at least 80 points in 14 of their last 15 games but is just 3-5 (2 OT losses) in the very tough Big 12.
But following a win over West Virginia, the Frogs should continue to score and get a road win against an inferior foe Saturday. Vanderbilt went through a 1-14 ATS slide before covering their last two games, but TCU's top-5 efficiency offense against Vandy's deficient defense and poor shooting offense should result in another home defeat. The Commodores lost their senior guard Matthew Fisher-Davis three games ago and he had season-ending shoulder surgery Jan. 26. His deep-shooting range was something opponents had to guard against, but his absence really makes Vandy a 'towel tosser' during the closing month of the season as coach Drew has even less to work with for his depleted team.
TCU has won at Baylor and lost back-to-back high-scoring overtime games at Texas and Oklahoma. The Horned Frogs lead the Big 12 in FG shooting (50%) and 3-point shooting (40%) while averaging 87 points per game. Combined with leading the league in assists, and the league's No. 2 positive rebounding margin, Jaylen Fisher and this team won't be bullied. Expect the Frogs to jump to a solid road win using their 94-foot up-tempo efficient attack against a weak SEC opponent.
FairwayJay is a leading national sports analyst and is recognized as one of the sports industry's most insightful handicappers and professionals. Follow him on Twitter: @FairwayJay