Betting The Biggest Games On College Football Rivalry Weekend
Great Emotion, Energy and Effort for College Football Rivalry Games
The biggest week of the college football season happens to be during Thanksgiving, and for that there is much to be thankful for. Some of the marquee match-ups have major implications in the College Football Playoff chase as well as securing spots in conference championship games. But these games are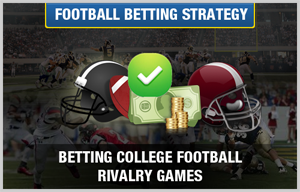 also the most exciting and meaningful games of the season to the players, coaches and fan bases, as rivalry games bring out the greatest emotions, energy and effort.
My latest at Forbes – Major Matchups In College Football Rivalry Week Draw Biggest Betting Action.
Read more along with analysis and insight on the biggest rivalry games and Top 25 match-ups with betting lines from Las Vegas sportsbooks and information you can bet on.
| | | |
| --- | --- | --- |
| Game | William Hill Line | Date, Time (ET) and TV |
| Washington State at Washington | Washington -7 | Nov. 29 – 4:00 on FOX |
| No. 4 Georgia at Georgia Tech | Georgia -28 | Nov. 30 – 12:00 on ABC |
| No. 1 Ohio State at No. 13 Michigan | OSU -9 | Nov. 30 – 12:00 on FOX |
| No. 3 Clemson at South Carolina | Clemson -27 | Nov. 30 – 12:00 on ESPN |
| No. 5 Alabama at No. 15 Auburn | Alabama -3.5 | Nov. 30 – 3:30 on CBS |
| No. 12 Wisconsin at No. 8 Minnesota | Wisconsin -3 | Nov. 30 – 3:30 on ABC |
| Oregon State at No. 14 Oregon | Oregon -19.5 | Nov. 30 – 4:00 on Pac-12 Network |
| Florida State at No. 11 Florida | Florida -18 | Nov. 30 – 7:30 on SEC Network |
| No. 7 Oklahoma at No. 21 Oklahoma State | Oklahoma -13 | Nov. 30 – 8:00 on FOX |
| Other Rivalry Games of Interest | | |
| Virginia Tech at Virginia | Virginia Tech -2.5 | Nov. 29 – 12:00 on ABC |
| Texas Tech at Texas | Texas -9 | Nov. 29 – 12:00 on FOX |
| No. 17 Iowa at Nebraska | Iowa -5 | Nov. 29 – 2:30 on Big Ten Network |
| No. 19 Cincinnati at No. 18 Memphis | Memphis -12.5 | Nov. 29 – 3:30 on ABC |
| South Florida at Central Florida (UCF) | UCF -23.5 | Nov. 29 – 8:00 on ESPN |
| Indiana at Purdue | Indiana -7 | Nov. 30 – 12:00 on ESPN2 |
| Northwestern at Illinois | Illinois -8.5 | Nov. 30 – 12:00 on FS1 |
| Louisville at Kentucky | Kentucky -3 | Nov. 30 – 12:00  on SEC Network |
| UNLV at Nevada | Nevada -7 | Nov. 30 – 3:00 on AT&T Sportsnet |
| Vanderbilt at Tennessee | Tennessee -21.5 | Nov. 30 – 4:00 on SEC Network |
| North Carolina at NC State | North Carolina -10 | Nov. 30 – 7:00 on ACC Network |
| No. 23 Iowa State at Kansas State | Iowa State -5 | Nov. 30 – 7:00 on FS1 |
| UL Monroe at UL Lafayette | Louisiana (ULL) -20 | Nov. 30 – 7:30 ET |
| Arizona at Arizona State | Arizona State -13.5 | Nov. 30 – 10:00 on ESPN |
FairwayJay is a leading national sports and betting analyst providing insight and information you can bet on for nearly two decades from Las Vegas. His work, writing and content is provided to various sites and leading sources. Follow him on Twitter: @FairwayJay