Analyzing College Basketball Late Season Contests And Last Home Games
How to Use the Emotion and Situations Surrounding Last Home Games and Meaningful Late Season Games
The final 2-3 weeks of the regular season are upon us as college basketball teams push for conference titles and prepare for the conference tournaments and a run to the NCAA tourney. We've outlined some late season profiles and stats with undefeated home teams, defensive dominators and top shooting teams in recent articles. Just 14 teams remain undefeated at home, and from Feb. 5 through Feb. 12, seven more teams lost their first home game.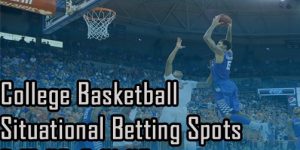 Many teams play well at home down the stretch, but with home court success and high-profile teams comes inflation and often a tax on the betting line at the leading online sportsbooks. There is a fine line between redemption and dominance when evaluating second-meets, last home games and home court. While stat profiles, scheduling and situations make up part of the handicapping process, so too does motivation, including rivalries and the Last Home Game (LHG) situations.
Many of these late season contests and last home games bring a level of emotion and effort from both the players and fans, as seniors make their final appearances for the home faithful. Year after year we see teams that seem to have lost their way rise up in an emotional spot late in the season, while other winning teams and those pushing for a conference title bring their best in a late season redemption or Last Home Game spot.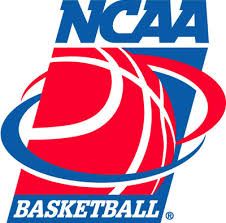 These kind of efforts and situations are prevalent throughout the final weeks of the season, and it gives you an idea of the emotion and meaning of these late season contests in front of their home fans. While some teams are pushing for conference titles, others are just trying to finish above .500 to qualify for the postseason and  prepare themselves for the upcoming conference tournaments. Other teams are playing out the string and know the conference tournament is their last shot to qualify for the NCAA Tournament. Thus, some of the remaining games will have far less meaning to teams on the downturn or struggling with cohesion, chemistry and potential coaching changes.
Coaches likely on the way out can impact player performance and their ability to respond, so pay attention to potential deadbeat coaches who will be fired or replaced, knowing that some teams have 'tossed the towel' on a lost season. While there may appear to be some value in the betting line, you must still be careful betting on some teams who have failed to be competitive or lost their way. TCU was 12-1 to start the season playing a soft non-conference schedule, but now the Horned Frogs are 17-9 and just 5-8 in Big 12 play after losing to lowly Oklahoma State Feb. 18 and the Cowboys clueless coach. The Frogs are no longer in the NCAA Tournament picture.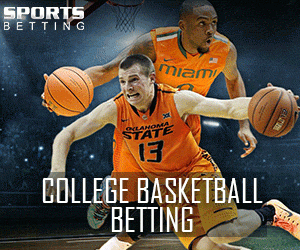 Plenty of big games down the closing stretch, and something to look for is a team playing a big game that will result in a major letdown the following game. Also, some teams are going to suffer some bad or one-sided losses only to bounce back in a better or look ahead situation at home. The betting lines will be bloated on many of these highly ranked hotties in the final weeks, but letdowns are inevitable coming off a huge game and then laying big prices against an inferior conference foe.
Pride and passion are still are part of late season basketball even for losing teams, and late season or Last Home Games can often bring out the emotion and effort to deliver a better performance, especially in a rivalry or revenge match-up. As you evaluate these Last Home Games and some more meaningful games in the final weeks of the regular season, watch and observe a team's chemistry, coaching and comments, and how a team is playing and performing. Recognizing value or inflation in the betting line will help you as you evaluate the schedules and situations that may provide additional motivation, energy and effort. Cohesion, chemistry and motivation (or lack thereof) are key factors beyond the stats and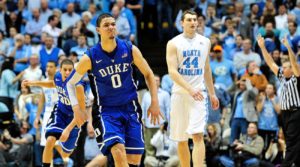 box scores, and last home games or redemption match-ups are often a night when the emotion and energy reach peak levels, especially against a big rival or with a conference championship or tournament seeding on the line.
The sports books often 'tax' a winning home team with more to play for and also give far less credit to losing teams playing out the string at home. And as we've witness in recent weeks with many teams pushing for conference titles and seedings, and some top teams losing for the first time at home, the pressure to perform can be immense.
Here are some games to identify and watch for in the closing weeks. Team records as of Feb. 19.
Closing Season Games and Last Home Games of Interest and with Conference Championship or Higher Seeding Implications
American East
Feb 21 – Vermont at MD Baltimore County – League leader Vermont (11-1) lost to MDBC 74-61 on Jan. 23 as 13-point favorite, and also lost to MDBC in conference championship last year as 10-point favorite.
Feb 27 – MD Baltimore County (9-3) at Stony Brook (9-2 – LHG) – Stony Brook lost to MDBC 57-49 on Jan. 30
March 3 – Stony Brook at Vermont
American (AAC)
March 9 – Central Florida (9-3) at Temple (9-4 – LHG)  – Temple (+5) lost at UCF 78-73 on Jan. 2
March 10 – Houston (12-1) at Cincinnati (10-2 – LHG) – Cincinnati (+4') lost at Houston 65-58 on Feb. 10
Atlantic 10
Feb. 22 – Co-leader Davidson (10-2) at Rhode Island (5-7). Davidson off a big game at Dayton Feb. 19 and last year Davidson (+2.5) beat Rhode Island in the A-10 championship game to advance to NCAA Tourney
ACC
Feb. 20 – North Carolina (10-2) at Duke (11-1) – Top-10 match-up with Duke No. 1. Most watched game of season features a half dozen players projected as first round selections in June's NBA draft
March 9 – Duke at North Carolina (LHG)
Big 12
Feb. 23 – Kansas (9-4) at Texas Tech (9-4) – Kansas (-4.5) beat TT 79-63 on Feb. 2
Feb. 25 – Kansas State (10-3) at Kansas – K-State (-2.5) beat Kansas 74-67 on Feb. 5
March 9 – Texas Tech at Iowa State (8-4 – LHG) – Iowa State (+5.5) won 68-64 on Jan. 16 – Tech's only home loss
Big East
Feb. 23 – Seton Hall (7-6) at St. John's (7-6) – Seton Hall (-3) beat St. John's 76-74 on Dec. 29
Feb. 27 – Marquette (10-2) at Villanova (11-2) – Marquette (-1.5) beat Villanova 66-65 on Feb. 9
March 5 – Xavier (5-8)_at Butler (6-7 – LHG) – Xavier (PK) beat Butler 70-69 on Jan. 15
March 9 – Villanova at Seton Hall – Villanova (-8) beat Seton Hall 80-52 on Jan. 27
Big Ten
Feb. 24 – Michigan State (12-3) at Michigan (12-3)
March 3 – Michigan at Maryland (10-5) – Michigan (-7-5) beat Maryland 65-52 on Feb. 16
March 5 – Purdue (11-3) at Minnesota (7-8 – LHG) – Purdue (-11.5) beat Minnesota 73-63 on Feb. 3
March 7 – Iowa (9-5) at Wisconsin (10-5 – LHG) – Wisconsin (-2) beat Iowa 72-66 on Nov. 30
March 9 – Michigan at Michigan State (LHG)
Conference USA
March 6 – Southern Miss (9-5) at Old Dominion (11-3 – LHG) – Old Dominion (-7.5) beat Southern Miss 78-60 on Jan. 19
Ivy
Feb. 23 – Harvard (6-2) at Yale (7-1) – Harvard (+1) beat Yale 65-49 on Feb. 1
MAC
March 8 – Bowling Green (11-2) at Buffalo (11-2 – LHG) – Bowling Green (+8.5) beat Buffalo 92-88 on Feb. 1
Missouri Valley
March 2 – Drake (10-5) at Missouri State (9-5 – LHG) – Drake (-3.5) beat Missouri State 74-63 on Jan. 20
Mountain West
Feb. 23 – Fresno State (10-3) at Nevada (11-1) – Nevada (-4) beat Fresno State 74-64 on Jan. 12
March 2 – Nevada (11-1) at Utah State (10-3 – LHG) – Nevada (-9.5) beat Utah State 72-49 on Jan. 2
Ohio Valley
March 2 – Austin Peay (11-3) at Murray State (12-2 – LHG) – Murray State (-1) beat Austin Peay 73-71 on Feb. 14
Pac 12
March 6 – Oregon State (8-4) at Washington (11-1) – Washington (+3.5) beat OSU 79-69 on Jan. 26
March 9 – Arizona State (8-5) at Arizona (5-8) – ASU (-5.5) beat Arizona 95-88 in OT on Jan. 31
SEC
Feb. 23 – Tennessee (11-1) at LSU (11-1)
Feb. 27 – Tennessee at Ole Miss (8-4)
March 2 – Kentucky (10-2) at Tennessee – Kentucky (-3.5) beat Tennessee 86-69 on Feb. 16
March 5 – Auburn (6-6) at Alabama (6-6) – Auburn (-10) beat Alabama 84-63 on Feb. 2
March 9 – Tennessee at Auburn (LHG)
Sun Belt
March 9 – Georgia State (9-4) at Georgia Southern (8-5 – LHG) – Georgia State (-2.5) beat Georgia Southern 82-72 on Feb. 2
West Coast
Feb. 23 – BYU (10-3) at Gonzaga (12-0 – LHG) – Gonzaga (-14.5) beat BYU 93-63 on Jan. 31
Article posted at osga.com.
FairwayJay is a leading national sports analyst and is recognized as one of the sports industry's most insightful handicappers and professionals. Follow him on Twitter: @FairwayJay