Inside the Numbers of Celtics and Cavaliers Playoff Series
Boston's Road Struggles, LeBron James and Stats of Interest in the NBA Playoffs
The Eastern Conference Finals continue with Boston leading Cleveland 2-1 after the Cavaliers bounced back in Game 3 with their own beat down of Boston, 116-86. The series prices have fluctuated greatly after Boston took the first two games at home. The over-reaction in the marketplace following Cleveland's sweep of Toronto had the Cavaliers a -300 favorite over the Celtics (+245) at the start of the series, and then Boston became a -220 favorite over the Cavaliers (+180) after the Celtics won the first two games. Leading into Game 4 at Cleveland, the series prices have adjusted again at the top sports books.
NBA Eastern Conference Finals Game 4
Cleveland Cavaliers (-7)
Boston Celtics         (+7)
Total: 206
---
Eastern Conference Series Prices
Cleveland (+100)
Boston     (-120)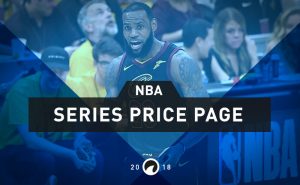 All three games in this series have gone under the total, and overall Boston has now played four straight road games under the total in the playoffs.
As we go Inside the Numbers and evaluate each team's strengths and struggles, we see the young Celtics struggles showing up on the road. Boston is 9-0 at home in this year's playoffs, including a perfect 9-0 ATS as big money makers at TD Garden. But Boston is just 1-5 on the road and 2-4 ATS with four losses by double digits.
The Celtics are playing without two of their star players, Kyrie Irving and Gordon Hayward, but under the brilliance of coach Brad Stevens, Boston has played well within themselves and the system, which ranked them No. 1 in the NBA in defensive efficiency. The maturation of their young players has developed quickly as guards Terry Rozier and Jaylen Brown, both averaging 17 PPG in the playoffs, and rookie sensation Jayson Tatum (18 PPG), have led Boston in scoring during the playoffs. Tatum has really emerged as a leader, and he has a connection to Cleveland and LeBron James when he was growing up.
Without Kyrie Irving, the Celtics scoring discrepancy has really surfaced. But it's his leadership and ability to score when needed most on the road that has been the missing ingredient. Boston led the Eastern Conference in road wins during the regular season (28) and was #3 in the league overall behind the best in the West, Golden State and Houston. Irving played 60 games and averaged 24 PPG and 49% FG including 40% from the arc. He led the team in assists, steals and was automatic from the free throw line (89%). Boston averaged 105 PPG with Irving in the lineup, and just 95 PPG without him. The Celtics were 22-8 on the road with Irving before his injury, and covered 21 of those games against the spread.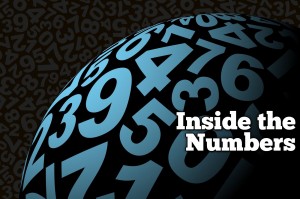 To show you how much the Celtics have really missed Irving's scoring on the road, Boston has not topped 105 points away from Boston Garden in 15 straight games dating back to March 16. That includes their one road win in the playoffs that went to overtime at Philadelphia. The scoring margin without Irving on the road is -5.9 PPG, and +4.2 PPG with him. They have played to a total averaging 204 PPG without him falling -7.68 points short on average, and a total of 207 with him, falling -1.2 points shy on average. They have been a 29.4% under team without Irving on the road, and a 57.1% over team with him.
Boston shot just 39% FG in Game 3 at Cleveland, against one of the league's worst defenses. While that game was clearly the Cavaliers 'all-in' game to avoid falling behind 3-0 in the series, it shows that Boston's road struggles have continued, even against a deficient defensive team, and perhaps will guide you to another under the total winner in Game 4 as Boston's defense also adjusts to slow LeBron and the Cavs.
Speaking of LeBron, he's continued to shine in the playoffs and scored 27 points on 8-12 FG and added 12 assists in the Game 3 win over Boston. But this Cavaliers team is still a weaker group this year and LeBron has had far less support with Kyrie Irving no longer playing for Cleveland and less production from Kevin Love this year.
LeBron James has been to the NBA Finals 7 straight years, but we took a position against the Cavaliers in each series this year betting that LeBron will not make it back to the NBA Finals. We locked in a series profit this round following Boston's Game 2 win with a little buy back on Cleveland, but still believe Boston will advance to the NBA Finals. If Cleveland were to advance to the NBA Finals, LeBron and the Cavs are going to get crushed by Golden State or Houston.
The East is certainly pretty weak this season, but as the competition gets tougher in the playoffs, the importance of more balanced scoring, defense, and supporting players becomes more significant. This is not like, say, hockey, where a dominant goaltender can carry a team with superior play. A one-man dominance show like LeBron only takes you so far.
Evaluation and player contributions go beyond looking at the box score and seeing which players scored the most points. Scoring is significant, but still just one facet of the game, and often a misguided one.
In this year's playoffs, LeBron James is averaging 33 points, 9 rebounds and more than 9 assist per game. He's shooting a very strong 54% FG, but just 32% from the arc. The next closest in scoring is Kevin Love (15 PPG) and Kyle Korver (10 PPG), who is the team's sharp shooter from long range, hitting 46% from the arc.
In evaluating four other key categories other than scoring, we see the discrepancies when looking at the players other than LeBron and leading rebounder Love that are getting major minutes. That includes George Hill, JR Smith, Jeff Green, Kyle Korver and now the more important Tristan Thompson in this series.
Here are those players combined totals in the four categories below through 3 games.
Rebounds, Assists, Steals, Blocks
Smith – 12
Hill – 11
Korver – 10
Green – 9
Thompson – 26
Now add the Cavaliers top two players and see the difference
James – 62
Love – 47
We noted the importance of Thompson in our previous article as he's a top defender against Celtics center Al Horford, who had just 7 points and 7 rebounds in Game 3 (he's averaging 16 PPG on 57% FG and 8 RPG in the playoffs). Cavs coach Lue may be getting a clue, but he's still miles behind Stevens on Boston's bench. We'll give him a little benefit with less supporting cast on the Cavs this year, but the point of this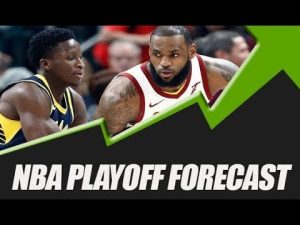 exercise is to show the stats and contributions in categories other than scoring, and realize there is more to the game than just putting the ball in the basket. Listening to many of the less informed former NBA players turned TV analysts is not the way to win or be completely informed, as they often point out the obvious and positives while not seeing the entire court, cohesive play and defense, or going Inside the Numbers to see what matters more.
The point is that when you have players 3-7 contributing very little to a team's overall production, there will be plenty of struggles even if a super star like LeBron James scores 40 or more points. LeBron scored 21 of Cleveland's first 27 points in Game 2 and finished with 42 points, and Cleveland still lost 107-94.
Boston is more balanced and is the better team, and the stats bear that out as we go Inside the Numbers. Using the four stats categories above, here are the numbers for the Celtics players through 3 games.
Horford – 39
Smart – 36
Rozier – 28
Morris – 23
Brown – 22
Tatum – 21
Baynes- 21
But we still must point out the Celtics struggles on the road and the home/road discrepancies. Rounding some numbers for ease of use, here are Boston's stats in the playoffs.
FG% Home – 47%
FG% Road – 41%
3-Point Home – 39%
3 Point Road – 30%
Assists Home – 24 per game
Assists Road – 18 per game
Steals Home – 8 per game
Steals Road – 5 per game
Boston is making six less baskets per game on the road in this year's playoffs, and the other numbers are down significantly on the road as well.
Cleveland blitzed Boston early in Game 3 taking a 32-17 first quarter lead and holding a 61-41 lead at halftime. The Celtics are now being out-scored by an average of 53-40 in the first half through six playoff games on the road and that's something to note and consider when making your first quarter and first half bets in Boston's road games at the top sports booksand reduced juice shops. Boston has been winning the second half of most their playoff games, and the Celtics scoring spread in the first and second half is 17 PPG which is huge.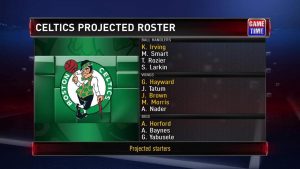 Still, we haven't gone Insider the Numbers on Boston's dominance on defense compared to Cleveland, as the Celtics are much more committed on the defensive end than the Cavaliers. Boston ranked No. 1 in the league in defensive efficiency this season, while Cleveland was No. 29 and still lacking in the playoffs. Boston will use multiple defenders on LeBron James and make him play every possession, which ultimately wears him down. James is a solid defender himself, but when he has to use too much of his energy on the defensive end, it's going to wear him down and his offensive stats are not likely to be as strong the remainder of the series. Note too that James has had 16 turnovers in this series, and LeBron also has the largest +/- negative in his playoff career, and the largest in this series. But you don't hear the media minds mentioning any of that in the playoffs. King James is mostly magnificent, but imagine if he has to carry the entire load against Golden State or Houston with their numerous sharp shooters and scoring options.
I believe it will be Boston advancing to the NBA Finals, but one thing for certain, LeBron will be completely exhausted and worn out if he carries the Cavs to the NBA Finals. You can bet on it.
Article posted at osga.com.
FairwayJay is a leading national sports analyst and is recognized as one of the sports industry's most insightful handicappers and professionals. Follow him on Twitter: @FairwayJay