$1,000 Pro Football Challenge
Fairway's Football Forecast Shoots for Profits and Parlays in the $1,000 Pro Football Challenge.
Each week during the NFL season, I post four (4) pro football underdog picks and plays. I came up with a fun idea and decided to post plays and provide NFL fans and bettors of all levels some selections and additional ways to bet these underdogs. Straight wagers, money line, and a money line parlay and straight parlay are part of our Pro Football Challenge.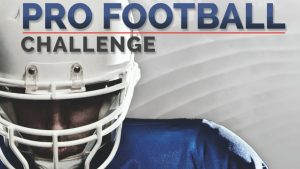 We'll use a $1,000 bankroll each week, and keep a running tab going throughout the season. The weekly links below will take you to our selections posted initially at the Offshore Gaming Association (osga.com), and can also be found on VegasSportsZone.com. Our goal is to provide winning selections and show a profit, knowing that it's very difficult to hit a money-line underdog parlay, or even a straight 4-team parlay.
While straight wagers are a more prudent play, I know from experience that bettors like a bigger score with less risk. So I've included a pair of parlay for profit plays and a money-line wager on each of these underdogs. With fewer games each week in pro football, we'll consider some very short favorites and include in our parlays and plays along the way.
Here's how it works. We'll use widely available lines and money-lines from both leading offshore sports books and Las Vegas sports books at time of post the end of each week.
FairwayJay's $1,000 Pro Football Challenge – 4 Underdog Plays
A $200 wager on each team to cover the point spread ($800).

A $40 wager on the money line for each underdog to win the game outright ($160).
A $20 wager on a 4-team Money Line Parlay ($20)
A $20 wager on a 4-team Parlay ($20)
Week 1:  +253 (3-1 ATS)
Follow along each week as we shoot for more Green and Parlays for Profit.
FairwayJay is a leading national sports handicapper and is recognized as one of the sports industry's most insightful analysts. Follow him on Twitter: @FairwayJay